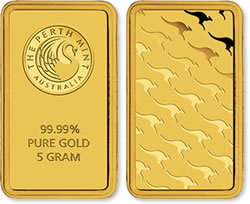 The Perth Mint has appointed Coins N Things Inc. (CNT) as the exclusive distributor for its Kangaroo Minted Gold Bars in North America.
Based in Bridgewater, Massachusetts, the respected wholesale company has been in business for 37 years and records over US$1.5 billion in sales annually.
Already, CNT is a major distributor of the Mint's Australian Nugget gold bullion coin series. According to CNT's President and CEO Mark Oliari, The Perth Mint's Kangaroo Minted Gold Bar range comprises complementary investment products that will appeal strongly to the North American market.
"Fully-owned by the State Government of Western Australia, The Perth Mint makes pure gold, silver and platinum coins which are issued as Australian legal tender under the authority of the Australian Federal Government. Its expertise in precious metals, which dates from 1899, combined with its pre-eminent status as a Government-owned mint, ensures that the Kangaroo Minted Gold Bar range can be purchased with complete confidence by North American buyers," he said.
Available in a convenient choice of 5g, 10g, 20g, 1oz and 10oz sizes, Kangaroo Minted Gold Bars are meticulously 'struck' from 99.99% pure gold. Each Minted Gold Bar bears the Mint's distinctive logo – a majestic swan – on the front. The back of each bar is decorated with kangaroo motifs, symbols of the Australian 'outback' where gold has been mined in commercial quantities since 1851.
Each bar is individually sealed in a tamper-proof presentation card featuring a unique serial number and the signature of the Mint's Chief Assayer.
Congratulating CNT on its exclusive appointment, Perth Mint Sales and Marketing Director Ron Currie said that the partnership between the two organisations was going from strength-to-strength. "Mark and his organisation have proved to be extremely effective distributors of our gold bullion coins in the highly-competitive North American market. I look forward to them achieving similar success with our Kangaroo Minted Gold Bars."
CNT's exclusive territory comprises the United States and Canada. Wholesale enquiries in North America should be directed to the CNT Trading Desk. The traders at CNT are Mark Oliari (mark.oliari@cntofma.com, Paul Oliari (paul.oliari@cntofma.com), Danielle Oliari (danielle.oliari@cntofma.com), and Christopher Arrighi (chris.arrighi@cntofma.com).
About The Perth Mint
The Perth Mint has an outstanding reputation for fine gold coins and bars among investors and collectors worldwide. Founded in 1899 as a colonial branch of Britain's 1,000 year-old Royal Mint to make sovereigns from Western Australian gold, it was acquired by the State Government of Western Australia in 1970. Subsequently, The Perth Mint was appointed by the Australian Government as the sole producer of Australian gold, silver and platinum investment coins.