The Perth Mint of Australia kicked of the month of March by announcing its introduction of Kangaroo Minted Silver Bars.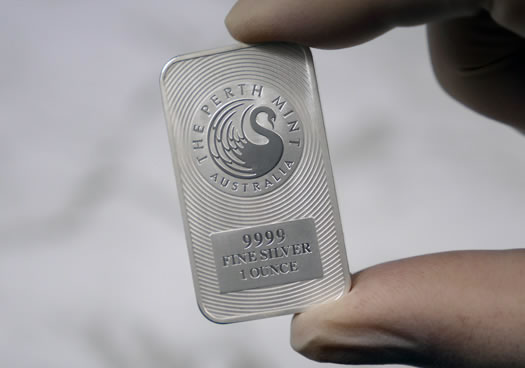 The investor piece is struck in an ounce of 99.99% pure silver with 3D reliefs of the Mint's LBMA registered swan logo and the bar's fineness and weight. Radiating circles appear in the background.
As an added security element, a tiny 'P' mint mark is within the last nine of the medal's inscription 9999 FINE SILVER.
"This authentication feature is designed to make it significantly more difficult for the bar to be counterfeited — although we strongly recommend buyers only purchase from trusted sources," The Perth Mint said in a post published Mar. 1.
Similar to the Mint's Kangaroo Minted Gold Bars, the back of the silver bar features small kangaroo designs in diagonal rows.
Buying options include single bars in an individual plastic pouch, 15 bars in an acrylic tube with a tamper-evident security seal, and bars of 10 tubes boxed in durable card packaging.
Perth Mint-provided specifications include:
Precious Metal Content (troy oz): 1.000
Fineness: 99.99% purity
Weight (g): 31.107
Diameter (mm): 40.600
Maximum Dimensions (mm): 47.60 x 27.60
Standard Thickness (mm): 2.257
Kangaroo Minted Silver Bars are sold on perthmintbullion.com.