1995 saw the release of Pobjoy Mint's very first Silver Angel coin which depicted a classical image of Saint Michael and 2010 is the 15th Anniversary of this special Isle of Man coin. To commemorate this occasion, the Isle of Man Treasury is releasing a Proof 999. 1oz Silver High Relief Angel.
The Angel is valued as a touch piece and bearer of good fortune; this has been believed since medieval times. First struck in France in 1341 and adopted by the English in 1465 during the reign of Edward IV, it was also used by King Henry VIII in 1526 as a gift to his chosen courtiers on special state occasions. Sufferers from the skin disease known as 'Kings Evil' during the Middle Ages were presented with the Angel at annual ceremonies at which the monarch touched those afflicted.
In many Christian circles, Archangel Michael is the patron saint of chivalry and the warrior and in most medieval art, a Dragon was used to represent evil. Hence, the image of Archangel Michael's victory over the Dragon was to gain the Gold Angel Coin a legendary reputation as a lucky charm, thought to possess special qualities — warning off all forms of illness and bringing the bearer good fortune.
The coin is a beautiful high relief Proof 999. 1oz Silver Angel that depicts the classic design of a powerful Archangel Michael slaying the dragon with a special 15 privy mark to celebrate the anniversary of the first Silver Angel Coin.
This is the first time a High Relief Silver Angel coin has been struck, highlighting every detail of this exceptional coin. The first 500 coins produced were recognised as 'First Strikes' and were purchased exclusively by Asset Marketing in the USA.
Approved by the Isle of Man Government and Buckingham Palace the obverse of the coin carries a fine effigy of Her Majesty Queen Elizabeth II by Ian Rank-Broadley FRBS.
High Relief Silver Angel Coin Specifications
| | | | |
| --- | --- | --- | --- |
| Metal | Diameter | Weight | Issue Limit |
| Proof 999. Silver 1 oz High Relief Angel | 38.60mm | 31.103gms | 50,000 |
# # #
About Pobjoy Mint Ltd.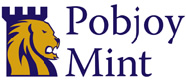 The Pobjoy family have been associated with fine metalwork since the Middle Ages. The Company was recently granted permission to use the family Coat of Arms in which the Medieval Popinjay is the central motif.
Over the past three centuries, the Company has been involved in many diverse fields, but they have always been involved in metal, both base and precious.
For the past 100 years the Company has been deeply involved in the development and manufacture of coins, medals and tokens.