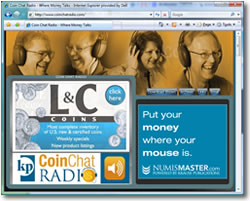 Coin Chat Radio's June 25 episode includes discussions on new and old Lincoln cents, freshly minted coins from Pobjoy and US mints, and stories of kids and collecting.
Bob Van Ryzin's "What's In The News" segment focuses on the recent US Mint decision to end bullion eagle rationing. The Mint now appears to have sufficient silver and gold blank inventories to meet the demand of its' authorized purchasers.
Numismatic News Editor Dave Harper talks with coin dealer John Wells from Milford, Pennsylvania about new Lincoln cents, old cents, their sales and overall penny values.
"The Birthplace Lincolns went over so well, I have never ever been so busy selling BU rolls since 1995," Wells remarks
The demand for the Formative Years Cent appears to be on the decline, according to Wells. As far as the future for penny values — old and new, Wells believes it is bright.
"Lincoln cents have no place to go, but up. I mean they're really down at the bottom now, at these prices," Wells forecasted.
With the change of cent design scheduled to become permanent next year, Wells feels the Memorial cents we have had for years will become much more valuable. Several years of those cents have already shot up in price.
David Brierley, Numismatics Intern, discusses a few new coins available from the Pobjoy Mint, including the 2009 Vanuatu Barack Obama coin and the first British Indian Ocean Territory coin. Pobjoy is a private mint that has produced coins for many countries around the world.
Maggie Stigsell hosts this week's segment of "Freshly Minted" with news of the Letitia Tyler First Spouse Gold coin from the US Mint. Sales are to begin on July 1st. The Tyler coin will be the 10th coin in a series honoring the former first ladies of the United States.
Closing out the Coin Chat Radio episode is Online Editor Lisa Bellavin and Publisher Scott Tappa. They relate personal stories of their children's interest in coins, and discuss ways to mentor a child's interest in the hobby. Bellavin and Tappa are seeking input from listeners on ways to achieve this goal. Background from Tappa and how to submit ideas is also available on NumisMaster at So, the Boy Likes Coins – Now What?.
To listen to this program, go to Coin Chat Radio. Current and prior week episodes are also available directly from sites hosting the free Coin Chat Radio player, like the one found on the home page of Coin Collecting News.