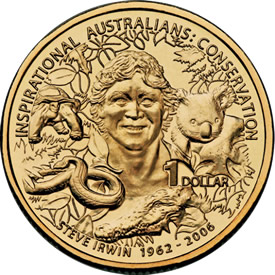 One of Australia's biggest television personalities and well-known wildlife experts has been named as an inspirational Australian and now appears on a new $1 coin.
Acting Chief Executive Officer of the Royal Australian Mint Graham Smith was joined by Terri Irwin and a few of her friends including "Sanchez" the Alligator to officially launch the new coin design at Australia Zoo.
"Steve would have been so proud to see his work elevated to yet another level. His efforts in conservation recognised on a national coin! We are all very proud of him," said Mrs Irwin.
The Royal Australian Mint's Inspirational Australians collector coin series recognises and celebrates individual achievements and commemorates unique Australians who have made an extraordinary contribution to our society.
"Steve Irwin captured the hearts of the world with his incredible energy and passion for Australian native animals and reptiles," said Mr Smith. "Collectors share a similar passion for collecting coins and this release will be a great addition to their collection."
Designed by Mint designer and sculptor Caitlin Goodall, the coin depicts a grinning Steve in his element, surrounded by his favourite wildlife and wilderness.
"Steve Irwin convinced us all to think about wildlife in a new and exciting way," said Mr Smith. "His legacy will live on forever with the release of this new coin, enabling all Australians to hold a piece of history in their very own hands."
The coin was launched ahead of Steve Irwin Day on Sunday 15 November 2009.
"Steve Irwin Day is a day to celebrate what Steve was passionate about: wilderness conservation, family and fun. I am happy that this year we will also have this coin to share, so that Steve's legacy continues," said Mrs Irwin.
About the Royal Australian Mint
His Royal Highness, The Duke of Edinburgh, officially opened the Royal Australian Mint, Canberra, on Monday 22nd February 1965. The Mint was commissioned to produce Australia's decimal coinage, which was to be introduced into circulation on 14th February 1966. The Royal Australian Mint holds a place in history as the first mint in Australia not to be a branch of the Royal Mint, London.
Since opening in 1965 the Mint has produced over eleven billion circulating coins and has the capacity to produce over two million coins per day, or over six hundred million coins per year.
The Royal Australian Mint has struck coins for a number of South Pacific nations. Export coins were first struck in 1969 for New Zealand and, since then, coins have been produced for Papua New Guinea, Tonga, Western Samoa, Cook Islands, Fiji, Malaysia, Thailand, Nepal, Bangladesh, Israel and Tokelau.