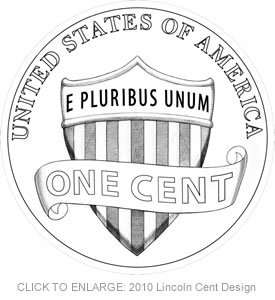 The US Mint today pulled away the drapes and revealed the new 2010 Lincoln Cent reverse design. The 2010 penny is a continuation of sorts of the themed 2009 designs, which reflect four distinct phases of Lincoln's life: his birth in Kentucky, his formative years in Indiana, his professional life in Illinois, and his presidency in Washington, D.C.
The 2010 cent theme is "emblematic of President Lincoln's preservation of the United States of America as a single and united country," and was outlined in authorizing Public Law 109-145.
While this year's cents were issued to celebrate the bicentennial birth of Abraham Lincoln and are minted for 2009 only, next year's penny design has no specific end date. It could be seen by generations yet to come. Congress would have to marshal through new legislation for ANY change to occur.
With that in mind, there was considerable collector attention as well as thoughts proffered for several possible 2010 designs that were released by the US Mint earlier in the year. (See CFA and CCAC reviews and coin images of these on Numismaster.com.)
The final 2010 design was unveiled for the first time today at the Lincoln Presidency cent launch ceremony.
"The reverse features a union shield with a scroll draped across it bearing the inscription E PLURIBUS UNUM. The 13 vertical stripes of the shield represent the states joined in one compact union to support the Federal government, represented by the horizontal bar above," the Mint said in a statement.
The union shield, which dates back to the 1780s, was used widely during the Civil War. In addition, the shield device is featured on frescoes throughout the halls of the U.S. Capitol Building by Constantino Brumidi, artist of the Capitol during Lincoln's presidency. It was designed by United States Mint Artistic Infusion Program Associate Designer Lyndall Bass and engraved by United States Mint Sculptor-Engraver Joseph Menna.
The coin's obverse will remain unchanged, featuring sculptor Victor David Brenner's familiar image of President Lincoln, which debuted in 1909.