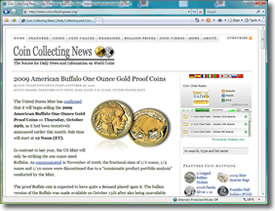 (San Antonio, TX) – CoinCollectingNews.org was originally designed as a quick hub where interested parties could learn about the latest coin news from leading sources. While this feature continues as the site's trademark, Coin Collecting News recently expanded to offer brand new resources and more than 150 pages of quality information relevant to the hobby of coin collecting.
"I started Coin Collecting News about 18 months back in the hopes of creating an open, sharing environment for both collectors and writers," said Mike Unser, founder and president of CoinNews Media Group LLC, which owns CoinCollectingNews.org.

"While we patted ourselves on the back with how well the site was performing, it became clear that we weren't doing enough. Our readers began telling us that they wanted more information about the coin world and how it relates to them — not just daily aggregated news."

"With that in mind, we spent a significant amount of time adding content and resources that are sure to be useful to anyone interested in numismatics," Unser added. "We've been thrilled and thankful for the feedback we've received following each area rollout. The entire process, with the exception of the many late nights and working weekends, has been positive for all of us at CoinNews Media Group."
The new areas Unser mentions are actually web site subsections that have been quietly appearing on Coin Collecting News since late August. Acceptance by the collecting community has been exceptional. Readership is up nearly 35 percent since Oct. 1, and collectors are spending extra time on site, visiting more pages.
Several of the new web site areas include:
Daily Featured Coin Articles – The staff of Coin Collecting News and other contributors write about daily hot topics, which then appear in the Featured section.
United States Coins – Surprisingly, few sites on the web offer detailed information on new coins from the United States Mint that include high resolution images, specifications, mintages and sales figures. As readers finish a recent news article about a specific coin, many want to know more about it. This growing section will continue to expand to meet those demands.
Australian Coins – Similar to the US Coins section, this area details modern Aussie coinage.
Bullion Prices – Investors and collectors interested in precious metal coins and bullion know how fast commodity changes can occur. This page includes updated graphs and news for gold, silver, platinum and palladium. It also provides an end-of-day bullion analysis.
Coin Headlines – Coin Collecting News has always provided aggregated coin headlines for its readers. This updated area is vastly improved with more than two dozen active sources of coin news and coin blog headlines from around the world.
Coin Videos – This section contains a selection of coin related videos, with everything from the minting process of coins, to errors and to metal detecting. Nearly a video a day on average has been added since mid September.
Ideas are always welcomed, and to offer them, visit the site's About page. To contribute content, see the Contribute page. Look for more changes to Coin Collecting News in the future.
# # #
About CoinNews Media Group LLC
CoinNews Media Group LLC owns and operates several coin news and coin sites where more than 170,000 collectors spend time at each month. These sites include, but are not limited to: CoinNews.net, SilverCoinsToday.com, WorldMintCoins.com, AmericaBeautifulQuarters.com, FirstSpouseCoins.us, 2009LincolnPennies.com, and LincolnCoinChroniclesSet.com.