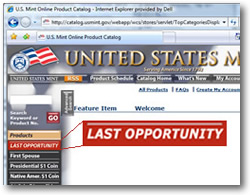 Only hours remain until the United States Mint stops selling a range of products released last year that include rolls of 2009 Lincoln cents and three annual sets containing the pennies.
The US Mint first published its "Last Opportunity" or "Last Chance Sale" back in May. The sale contains two major cut off dates for product offerings — Tuesday, June 15 and Wednesday, June 30, 2010.
The last date ends sales of six 2009 District of Columbia and U.S. Territories Coin Covers. The first stops sales at 5:00 p.m. Eastern Time for the penny rolls and sets. In an email notice sent to customers on Monday, the Mint stated:
"Products containing any of the four 2009-dated Lincoln cents will not be available after June 15, 2010, at 5:00 p.m. (ET).

The 2009 United States Mint Proof Set®, 2009 United States Mint Silver Proof Set™, 2009 United States Mint Uncirculated Coin Set®, and the remaining 2009-dated two-roll sets — "Professional Life" and "Presidency" — will go off sale at 5:00 p.m. (ET) on June 15, 2010."
The following paragraphs offer a brief overview of the products that will be discontinued on Tuesday along with their latest sales figures as of Sunday, June 6, 2010:
The 2009 US Mint Proof Set launched on June 1, 2009 for the price of $29.95. It includes 18 coins struck in clad composition from the Mint's San Francisco facility (each coin bears the associated "S" mint mark). As the most popular set from the Mint annual offerings because it includes proof versions of every single coin released into circulation, 1,475,264 have been purchased. Prior year 2008 Proof Set sales reached 1,405,674. The 2010 Proof Set is scheduled to launch on July 22, 2010.
The 2009 US Silver Proof Set was released on July 17, 2009 for $52.95. It includes the same coins as the clad set and each are also minted in San Francisco. The silver set, however, includes the following coins struck in 90 percent silver: 2009 Jefferson Nickel, 2009 Roosevelt Dime, 2009 Kennedy Half Dollar, and the six 2009 District of Columbia & U.S. Territory Quarters. Their latest sales stand at 690,822. The previous year's 2008 Silver Proof Set hit 774,874. The 2010 Silver Proof Set is not scheduled for release until August or September.
The uncirculated 2009 Mint Set went on sale on October 1, 2009 for a price of $27.95. The annual set includes more coins than any other, with 36 versions of all coins that entered circulation last year. 18 are packaged from the Mint in Philadelphia and 18 from the Mint in Denver. The latest sales figures stand at 771,204. The 2008 Mint Set reached 745,464. The 2010 US Mint Set is scheduled for a July 15, 2010, release.
Finally, sales will end for the remaining 2009 Lincoln Two-Roll Sets that are priced at $8.95 each. They includes sets of the Lincoln Professional Life cents which have sales of 291,534 and sets of the Lincoln Presidency cents that are at 259,941. Their respective issue dates were August 13, 2009 and November 12, 2009. Each set includes two rolls — one containing 50 pennies struck in Denver and the other with 50 pennies minted in Philadelphia. The 2009 Lincoln Birthplace and 2009 Lincoln Formative Year Two-roll sets ended with respective sales of 96,000 and 300,000.
The products are being sold at their original prices. Customers may order them online from the US Mint page:
US Mint Last Opportunity Products
Phone orders may be placed at the Mint's toll-free number at 1-800-USA-MINT (872-6468).