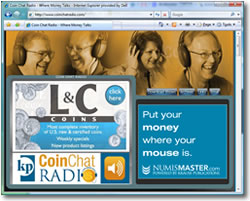 Coin Chat Radio's Bob Van Ryzin leads this week's episode discussing the private sale of top-rated sets of Capped Busts and Seated Liberty Half Dimes.
Legends Numismatics purchased the collections for $2.2 million and then sold the sets to an unnamed buyer for an undisclosed sum. A 1870-S half dime is the jewel in the collection, with a value at over $1.4 million itself.
Ryzin also relays the US Mint plan to issue 2009 Buffalo Gold Bullion Coins now that it has caught up on production of the American Eagle bullion coins. No firm date has been set for the release.
Numismatic News Editor Dave Harper interviews John Kamin, economist and editor of the Forecaster Moneyletter. After introductions, Kamin recounts his former and interesting affiliation with the National Committee for Monetary Reform. Its main goal was to legalize the ownership of any gold for American citizens.
"Roosevelt, as you know, confiscated as many gold coins as the government could get….back in 1933, under the guise of a national emergency. And that national emergency lasted right into 1973 when we helped get that gold ownership law changed for Americans."
Conversation turns to economic conditions and indicators, as well as the precious metals commodity market, which lead to opinions on investing and advice for coin collectors
"We tell people not to get into rare coins, unless they are willing to hold them at least 7 to 10 years minimum. We have the 'Forecaster Rule of 10' and that says don't buy rare coins that are less than 10 years old."

"They [collectors] never resell anything!" Kamin states a mistake collectors make. "I think part of the educational process is to resell something at least twice a year….if they just resell something now and then…(they) will be a lot smarter doing that!"
Editorial Director Debbie Bradley talks with the National Commission of Fine Arts Secretary Tom Luebke. Luebke explains the role of the Commission:
"The Commission of Fine Arts…. started out specifically to review the design of the National Capitol City… It addresses issues of national symbolism as well." From there, its role expanded to review and recommend design candidates for proposed new issue coins.
Intern David Brierly closes out the program with 'Freshly Minted.' Discussed are the Royal Canadian Mint's Olympic themed bullion coins, and the Royal Australian Mint's new Moon Landing coin and 'Crocodile Hunter' Steve Irwin commemorative.
Coin Chat Radio can be heard by going to their website, where previous episodes are also available. You may also listen to them at sites like Coin Collecting News which host the free Coin Chat Radio player.