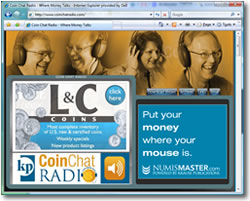 Coin Chat Radio's June 18th episode touches on a recent coin bill that passed in the U.S. House of Representatives, coin shows, and pre-federal paper money.
Bob Van Ryzin's beginning "What's In the News" segment discusses the Medal of Honor Commemorative Coin Act of 2009.
The legislation passed in the House in May and would require the US Mint to strike up to 500,000 $1 silver coins and 100,000 $5 gold coins in 2011 to celebrate the establishment of the Medal of Honor in 1861.
David Crenshaw, General Manager of the Baltimore Coin and Currency Convention, is interviewed by Numismatic News Editor Dave Harper. Many topics were discussed about the recent show as well as those planned for the future.
"This is the cradle of our country," Crenshaw said in explaining the draw of the upcoming Whitman Coin and Collectibles Philadelphia Expo. "You know, this is where all of our founding fathers and kind of the start of our American history all started at."
Numismatics Intern David Brierly takes a few moments to educate listeners on the history of US pre-federal paper money. According to Brierly, the official start can be traced to the Massachusetts Bay Colony in 1690. Several more stages of paper money are explored by Brierly, who explains the value behind the notes:
"While today, their collector value depends on a combination of rarity, condition and demand, their value when issued was solely dependant on the reputation of the issuing authority; be it bank, railroad or main-street apothecarian."
Online Editor Lisa Bellavin has a short piece about the mysterious 1804 silver dollar, of which, only 15 coins have been identified as original. Tales of shipwrecks, counterfeiting and massive melt-downs are relayed as possible reasons for the low number of surviving samples of the silver dollar.
To listen to this program, go to Coin Chat Radio. Current and prior week episodes are also available directly from sites hosting the free Coin Chat Radio player, like the one found in the upper right at Coin Collecting News.