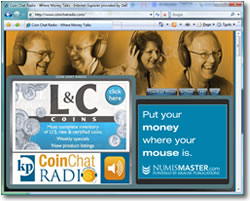 Bob Van Ryzin's "What's In The News" begins this week's episode of Coin Chat Radio with release of the 2009 Lincoln One Cent Proof Set from the US Mint.
For $7.95, collectors can purchase proofs of the four new cent designs honoring the bicentennial birth of Abraham Lincoln. Of interest to most, the cents are struck from the same bronze alloy (95% copper and 5% tin and zinc) used on the first Lincoln penny minted back in 1909.
Also mentioned by Ryzin is the announcement by Krause Publications that it will assume full in-house control of the three numismatic events it produces in Chicago, namely the Chicago Paper Money Expo, the Chicago Internation Coin Fair and the Mid-America Coin Expo.
Numismatic News Editor Dave Harper takes a few moments to interview dealer Paul Song from Bonhams and Butterfields, which is starting a new coin division. Harper digs into the details of how the startup is going and how it will be different from other coin auctions, to which Song replies:
"There has been a great demand for this type of service, especially at Bonhams. I think the fact that we are actually tapping a market that has been somewhat underserved by a traditional auction house that has collecting categories and expertise in over 80 areas."

"I don't want to be in a situation where I am trying to build a huge volume business. I want to build this incementally, and I want to build it my way, which is with good interesting material."
Online Editor Lisa Bellavin talks with Editor George Cuhaj about the newest edition of the Standard Catalog of United States Paper Money.
"The book covers quite a bit," Cuhaj responds when asked what kind of collector will enjoy the book. "It has the large size and small size federal currency. It incorporates national bank notes by type, and then there are extra listings for the pre-federal notes, going back to the War of 1812 through the 1850's. And also special sections on encased postage envelopes, encased postage stamps that were used during the Civil War, fractional currency as well as military payment certificates."
Closing out Coin Chat Radio this week is Publisher Scott Tappa and the "Freshly Minted" segment. He discusses new offerings from the National Bank of Poland which commemorates the start of World War II as well as new coins from Finland and Singapore.
To listen to this program, go to Coin Chat Radio. Current and prior week episodes are also available directly from sites hosting the free Coin Chat Radio player, like the one found in the upper right at Coin Collecting News.