A weakened U.S. dollar on Tuesday lured investors toward gold — albeit in less than impressive numbers. Still, the yellow metal had its first positive day since Thursday. It came after the government reported a slight inflationary increase in producer prices due largely to higher gasoline costs.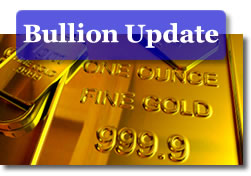 Silver and platinum advanced with gold. Crude-oil and U.S. stocks, however, pulled back for another day of losses.
In New York trading futures for bullion:
Silver for July delivery gained 10 cents, or 0.7 percent, to $14.13 an ounce. The low point was at $14.05 and the high at $14.405.

Gold for August rose $4.70, or 0.5 percent, to $932.20 an ounce. It ranged from $927.70 to $940.60.

July platinum advanced $7.20, or 0.6 percent, to $1,220.90 an ounce.
"The U.S. currency continues to dictate direction," Andrey Kryuchenkov, an analyst at VTB Capital in London, was quoted on Bloomberg. "We expect gold to start consolidating" this week "as the dollar retreats."
"Gold turned higher from somewhat oversold conditions in previous sessions, and now needs to tread water above $935 in order to minimize chances of slipping under $915 or lower," wrote Jon Nadler, Sr. analyst at Kitco.com.
In London bullion, the benchmark gold price was set earlier in the day to $934.00 an ounce, which was $1.75 higher than Monday. Silver fell a penny to $14.30 an ounce. Platinum was again fixed $7.00 lower to $1,227.00.
Gold, considered a hedge during times of high inflation and economic uncertainty, tends to follow oil and move opposite to the U.S. dollar. A rising greenback makes dollar-denominated commodities, like bullion, more expensive for holders of other world currencies.
In economic news that may have helped gold somewhat, the Labor Department reported the Producer Price Index rose by 0.2 percent in May. The figure was less than expected as food costs declined 1.6% while energy prices rose 2.9%. Gasoline prices surged 13.9 percent.
The PPI measures inflationary pressures at the wholesale level.
Oil and gasoline prices
After rising early, oil finished lower Tuesday. New York crude-oil for July delivery fell 15 cents, or 0.2 percent, to $70.47 a barrel. The contract had an intraday high of $72.77.
Prices at the pump increased a half penny, according to AAA. The national average for unleaded gasoline moved to $2.674 a gallon, which is 5.2 cents higher than a week ago and 36.6 cents more than last month.
U.S. Stocks
U.S. stocks ended lower for the second straight day on "continued worries that the pace of the recession is not waning as much as has been hoped," wrote Alexandra Twin of CNNMoney.
The Dow Jones industrial average fell 107.46 points, or 1.25 percent, to 8,504.67. The S&P 500 Index declined 11.75 points, or 1.27 percent, to 911.97. The Nasdaq Composite Index slipped 20.20 points, or 1.11 percent, to 1,796.18.
Check out additional market resources at Live Bullion Spots, the Silver Coin Melt Calculator, U.S. Mint Collector Bullion Price Guide, and the Inflation Calculator.