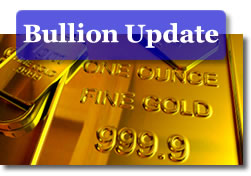 U.S. gold prices reached a fresh new high on Thursday, marking the second time this week a new record level was hit. Gold edged up 0.4 percent.
Precious metals were mixed for the day, however. Platinum also gained 0.4 percent while silver advanced 1.0 percent. Palladium plummeted 1.8 percent.
In other markets, crude oil prices dropped for a third day while U.S. stocks ended little changed.
New York precious metals closing prices follow:
Gold for December delivery advanced $5.10 to close at $1,273.80 an ounce on the Comex in New York. It ranged from $1,266.10 to $1,279.50.

December silver climbed 20 cents to $20.771 an ounce. It ranged between $20.475 and $20.845.

Platinum for October delivery gained $6.60 to finish at $1,611.90 an ounce. It ranged from $1,594.60 to $1,619.00.

Palladium for December delivery lost $10.25 to $549.35 an ounce. It ranged between $548.00 and $564.55.
In notable bullion quotes of the day:
"The overall theme I keep hearing is general investor confusion," Matt Zeman, a senior strategist at LaSalle Futures Group in Chicago, said and was quoted on MarketWatch. "People are reluctant to pour money into equities, and (bond) yields are nil so people see gold as an opportunity
"Gold is the place to be," Lannie Cohen, the president of Capitol Commodity Services Inc. in Indianapolis, said and was quoted on Bloomberg. "Investors are very concerned that all the money that central banks around the world are printing is out of control. Gold is the only way to preserve your wealth."
"Overnight feedback from Indian retail contacts tell pretty much the same story; demand is virtually nil at current price levels," noted Jon Nadler, senior analyst at Kitco Metals, Inc. "Translation: high gold prices trump tradition. More evidence that the latest surge in gold prices is largely a fund-driven futures/options/momentum/technicals flavored one comes from the…retail physical gold coin demand front. course, you could just consult Kitco News for validation of same.

However, consider this little 'golden' nugget, for perspective: The Austrian Mint reported that sales of its highly popular Philharmonic 24K coins fell by 41% in the twelve-month period that ended in August. The exception, of course, was the month of May when European buyers flocked to coin dealers due to the debt storm taking place in the region."
In PM London bullion, the benchmark gold Fix price was $1,272.50 an ounce for a gain of $5.50 over Wednesday's price. Silver rose 32 cents to $20.760 an ounce. Platinum settled at $1,602.00 an ounce, rising $17.50. Palladium was up $8.00 to $554.00 an ounce.
In U.S. Mint bullion coins, sales of the one-ounce American Gold Eagle and the American Buffalo Gold coin gained slightly since Tuesday, but no other coins advanced. The latest bullion figures as reported by the United States Mint follow:
U.S. Mint 2010 Bullion Coin Sales
September
2010 Totals
American Eagle Gold 1 oz
35,000
840,000
American Eagle Gold 1/2 oz
1,000
35,000
American Eagle Gold 1/4 oz
2,000
50,000
American Eagle Gold 1/10 oz
15,000
340,000
American Buffalo Gold 1 oz
5,000
204,000
American Eagle Silver 1 oz
390,000
23,990,500
Oil and gasoline prices
New York crude oil for December delivery plunged $1.45, or 1.9 percent, to close at $74.57 a barrel. Enbridge Energy said it repaired a leaked pipeline and oil would again flow through it by Friday. That was a cited cause for lower prices.
"We're really back around the levels that we were at last Friday" after the Enbridge pipeline leak was discovered, Matt Smith, a commodities analyst for Summit Energy in Louisville, Kentucky, said and was quoted on Bloomberg. "The last few days, we've really seen that premium unwind."
The national average for regular unleaded gasoline rose three-tenths of a cent to $2.734 a gallon, according to AAA fuel data. The price is 5.1 cents higher than a week ago, eight-tenths of a cent lower than a month back, and 17.8 cents higher than the price from a year ago.
U.S. Stocks
U.S. stocks were mixed on Thursday.
"We are just in the same growth path we were before the double-dip fears — that is why the market is just kind of stuck, volumes are kind of low, and there is no conviction one way or the other," John Canally, investment strategist and economist for LPL Financial in Boston, said and was quoted on Reuters. "Today, jobless claims were good, corporate earnings data not so good, and that's the tug of war you are in today."
The Dow Jones industrial average rose 22.10 points, or 0.21 percent, to 10,594.83. The S&P's 500 Index fell 0.40 points, or 0.04 percent, to 1,124.67. The Nasdaq Composite Index .IXIC added 1.93 points, or 0.08 percent, to 2,303.25.