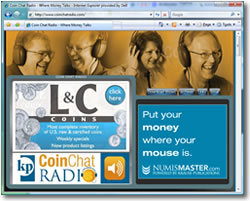 Bob Van Ryzin starts of the May 14th episode of Coin Chat Radio with the latest coin news. 
First topic was the low US mintage of nickels and dimes for this fiscal year, and whether those low numbers, not seen in almost 50 years, could result in a premium price due to demand. 
Also discussed was the Mint's delay of the Puerto Rico Quarter First Day Cover, now set for release on May 26, 2009.
Avid collector Russ Rulau has been collecting coins since 1939 and is interviewed by Numismatic News editor Dave Harper. Mr. Rulau relays several stories about his experiences in World War II, and collecting coins after the war while serving in Japan.
"I bought everything that I could, and I wasn't particularly condition conscious in those days," Rulau said. "I just bought everything I could afford."
In describing lessons learned and worth sharing about Japanese coins, Rulau said they are "extremely interesting, and also extremely simple. Once you get the hang of how to date the coins and how to read the inscriptions… there is no reason why anybody… cannot collect Japanese coins!"
Online editor Lisa Bellavin talks with Krause Publications Numismatics publisher Scott Tappa about the upcoming MidAmerica Coin Expo in Chicago, which focuses primarily on US coins. The show takes place June 25-28, 2009.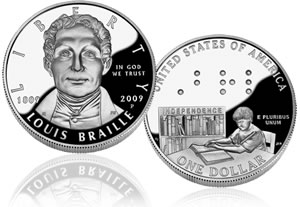 Bellavin's "Freshly Minted" segment highlights the new Louis Braille Commemorative Dollars.
She mentions the two Braille's aboard shuttle Atlantis, and the NFB plea to buy coins during the 11-day NASA mission to service the Hubble Space Telescope.
Bellavin also shares with listeners that the National Museum of American History in Washington D.C. has a new exhibition exploring the meaning and development of American money. It is scheduled to open on June 12, 2009.
To listen to this program, go to Coin Chat Radio. Current and prior week episodes are also available directly from sites hosting the free Coin Chat Radio player, like the one found in the upper right at Coin Collecting News.