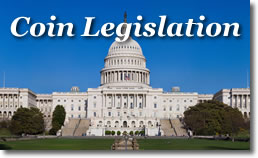 Legislation was introduced in the Senate Thursday that, if passed, would honor the life and legacy of Robert M. La Follette, Sr. with up to 500,000 silver commemorative coins in 2011.
La Follette (June 14, 1885 – June 20, 1925) was born in Primrose, a small town southwest of Madison, Wisconsin. He served in the U.S. House of Representatives, as the governor of Wisconsin and then in the U.S. Senate until his death.
Known as "Fighting Bob," La Follette was a founder of the national progressive movement and championed causes that fought for workers compensation, women's rights, limited monopolies, elimination of pork barrel spending and many other progressive issues. La Follette was a man who stood up for what he believed, to include his strong opposition to World War I — the most controversial aspect of his life.
The bill, Robert M. La Follette, Sr. Commemorative Coin Act, S. 945, was introduced by several of the most powerful U.S. Senators. The two Senators from Wisconsin, Russ Feingold and Herb Kohl, plus Senator Edward Kennedy and Harry Reid, the Senate Majority Leader.
"Bob La Follette was an unwavering champion of government reform whose leadership of the progressive movement remains a source of pride and inspiration to this day," Sen. Feingold said.

"No one has ever fought harder for the people of Wisconsin, or fought harder against corruption and cronyism, than 'Fighting Bob' La Follette. The legislation we introduce gives La Follette's distinguished legacy the distinction it deserves."
The design of the coins would be "emblematic of the life and accomplishments of Robert M. La Follette, Sr." Minted in proof and uncirculated conditions, each would weigh 26.73 grams, have a diameter of 1.500 inches and contain 90 percent silver and 10 percent copper — the standard coin specifications for modern commemoratives.
A $10 surcharge for each coin sold would be deposited into the United States Mint Public Enterprise Fund.
For a coin bill to become law, it must pass both in the House and Senate, and get signed by the President.
A separate bill introduced would also authorize the president to award La Follette the Congressional Gold Medal.