Gold ended higher Tuesday, although the yellow metal gave away much of its earlier gains later in the day. Silver and platinum moved ahead more firmly. For the first day in five, oil futures fell. U.S. stocks also ended lower following the previous day's rally.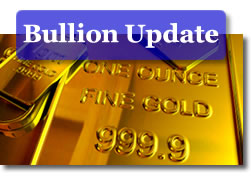 In New York trading futures for bullion on Thursday:
Silver for July delivery jumped 30.7 cents, or 2.3 percent, to $13.42 an ounce.

Gold for June gained $2.10, or 0.2 percent, to $904.30 an ounce.

July platinum climbed $15.90, or 1.42 percent, to $1,122.00 an ounce.
"While yesterday's advance in gold represented the best gain in the active contract since the beginning of April, today's initial gains followed by a fairly sharp reversal two hours before the close have to give the bull camp some real strong reasons for staying up and worrying tonight," wrote Jon Nadler, senior analyst at Kitco Bullion Dealers.
In spot bullion, the benchmark London gold fix price stood at $910.00, rising $25.50. Silver soared 96 cents to $13.11 an ounce. Platinum was fixed $59.00 higher to $1,135.00.
Gold, considered a hedge during times of high inflation and economic uncertainty, tends to follow oil and move opposite to the U.S. dollar. A rising greenback makes dollar-denominated commodities, like bullion, more expensive for holders of other world currencies.
Oil and gasoline prices
Oil futures ended lower Tuesday, breaking from a four-day winning streak and the prior day's five-month high. Crude-oil for June delivery fell 63 cents, or 1.2 percent, to $53.84 a barrel.
In news for consumers, the price for unleaded gasoline jumped yet again. Prices at the pump climbed six-tenths of a cent to $2.079, according to daily national average data from AAA. The price per gallon is 3.1 cents higher than a week ago.
U.S. Stocks
U.S. stocks slumped Tuesday following the multi-month highs reached on Monday. Profit taking was one of the cited reasons for the declines.
The Dow Jones industrial average lost 16.09 points, or 0.19 percent, to 8,410.65 points. The S&P 500 Index fell 3.44 points, or 0.38 percent, to 903.80. The Nasdaq Composite Index dropped 9.44 points, or 0.54 percent, to 1,754.12.
Check out additional market resources at Live Bullion Spots, the Silver Coin Melt Calculator, U.S. Mint Collector Bullion Price Guide, and the Inflation Calculator.