New York gold futures for April spent most of the day below $900 and closed on the floor at $889.10 an ounce — a two-month low. Then, after the Fed announcement to buy $300B in Treasurys, the yellow metal performed a spectacular flip.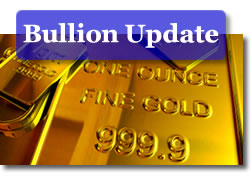 The U.S. dollar quickly sank and gold skyrocketed in late afternoon electronic trading to $946.10 an ounce.
"The Fed is printing money to buy government debt, Tom Hartmann, a commodity analyst at AltaVest Worldwide Trading Inc. in Mission Viejo, California, was quoted on Bloomberg. "This stokes fears of inflation again — why we're seeing gold take off."
For a perspective, New York silver, gold and platinum futures in normal floor trading fell 5.8 percent, 3.0 percent, and 0.9 percent, respectively. May silver lost 73.5 cents to close at $11.935 an ounce, April platinum dropped $9.40 to $1,042.40 an ounce, and gold for April delivery fell $27.70 to end at $889.10 an ounce.
After the close of regular trading, New York silver, gold and platinum futures gained 5.5 percent, 6.4 percent, and 1.2 percent, respectively. The same month prices for silver, gold and platinum stood at $12.595, $946.10 and $1054.90.
In spot trading, the London afternoon gold-fixing price — a benchmark for gold traded directly between big institutions — stood at $893.25 an ounce. London silver and platinum were at $12.61 and $1,044.00, respectively.
In U.S. stocks, the Dow rallied 1.2 percent, the S&P advanced more than 2 percent and Nasdaq rose nearly 2 percent. Meanwhile, crude-oil for April delivery plunged $1.02, or 2.1 percent, to close to $48.14 a barrel. AAA said the average price for regular unleaded gasoline climbed a penny to $1.920 a gallon.
In other economic news Wednesday, the Labor Department reported that consumer prices jumped 0.4 in Feb., and were pulled higher by energy costs — gasoline prices surged 8.3 percent. The government's Consumer Price Index (CPI) data measures inflation pressures at the consumer level.
Check out additional market resources at Live Spots, the Silver Coin Melt Calculator, the collector bullion coin Mint Price Guide, and the Inflation Calculator.