Gold gained Wednesday as weakness in the U.S. dollar continued, and despite plunging oil prices. New York silver, gold and platinum futures rose 6.7 percent, 3.1 percent and 1.8 percent, respectively.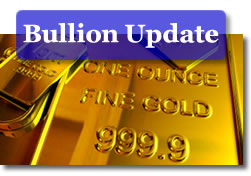 January crude-oil set aside the expected production cut by OPEC and tumbled $3.54, or 8.1 percent, to close to $40.06 a barrel. OPEC leaders later agreed to cut production by a record 2.2 million barrels a day effective on January 1.
The average price for unleaded gasoline rose six-tenths of a penny to $1.667 a gallon, according to AAA.
March silver jumped 71.5 cents to close at $11.42 an ounce.
January platinum rose $15.70 to end at $865.20 an ounce.
Gold for February climbed $25.80 to close to $868.50 an ounce.
"Yesterday's Fed rate cut-induced euphoria gave way to sober and more defensive plays among investors. By this afternoon, oil prices slipped to under $41 as OPEC failed to convince traders that its output cut would be effective in generating higher prices," said senior analyst Jon Nadler at Kitco Bullion Dealers.

"The greenback fell by the most against the euro since that currency was born in 1999. Against the yen, the American currency traded at near 13-year lows. Gold prices naturally made significant gains in the wake," added Nadler.
Gold, considered a hedge during times of high inflation and economic uncertainty, tends to follow oil and move opposite to the U.S. dollar. A rising greenback makes dollar-denominated commodities, like bullion, more expensive for holders of other world currencies. When prices are falling and economic activities are shrinking, gold prices tend to move lower.
Check out CoinNews market resources at Live Silver, Gold & Platinum Spots, the Silver Coin Calculator, U.S. Mint Collector Bullion Coin Prices, and the Inflation Calculator.