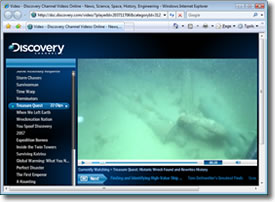 Admiral Sir John Balchin's British warship HMS Victory has been discovered in the English Channel where it fell victim to a 1744 storm, Florida-based deep-ocean shipwreck firm Odyssey Marine Exploration said Monday.
Among other artifacts, accounts say the ship may have carried 100,000 gold coins weighing up to four tons. Odyssey has not specified a value of any items found, saying only its research "indicates that Balchin's Victory sank with a substantial amount of gold and silver specie aboard."
The legendary warship was the biggest in the world during its day, and mysteriously disappeared with its complement of more than 900 sailors in October 1744.
The HMS Victory shipwreck site was found in May 2008. Odyssey retrieved a brass cannon on the ocean floor and was able to positively identify that it came from the warship, according to a company statement.
"Finding this shipwreck has solved one of the greatest shipwreck mysteries in history. Having discovered it in deep water far from where history says it was lost has served to exonerate Admiral Balchin and his officers from the accusation of having let the ship run aground on the Casquets due to faulty navigation," commented Greg Stemm, Odyssey's Chief Executive Officer.
Odyssey said it is cooperating with the United Kingdom's Ministry of Defense (MOD), and is negotiating an agreement and proposing terms similar to a 17th-century shipwreck it discovered, the 80-gun British Warship HMS Sussex.
"We have worked closely with the MOD on this operation, and anticipate that we will continue the excellent cooperative relationship that we have enjoyed working together on the Sussex project," Stemm added.
The wreckage site is "substantially" damaged from natural deterioration, scouring and from "extensive" use of fishermen's dragnets, according to Odyssey.
"This is the most astonishing news; for generations my family has wondered about the fate of Sir John and the Victory," Sir Robert Balchin, descendant of Admiral Sir John Balchin said in an Odyssey statement,

"Now that the wreck has been found, I and my family hope that as many of the artifacts on it as possible will be raised to the surface; our fear is that erosion, or trawler fishing will destroy what is there within a very few years," Balchin added.
The public can watch when Odyssey identified the HMS Victory in the Discovery Channel TV series "Treasure Quest." The specific episode airs on Thursday, February 5 at 10PM ET/PT.
A preview of the find and background information may be watched online at: http://dsc.discovery.com/video/?playerId=203711706&categoryId=3125043001&lineupId=3857608001
About Odyssey Marine Exploration, Inc.
Odyssey Marine Exploration, Inc. (NasdaqCM: OMEX) is engaged in the exploration of deep-ocean shipwrecks and uses innovative methods and state-of-the-art technology to conduct extensive search and archaeological recovery operations around the world. Odyssey discovered the Civil War era shipwreck of the SS Republic® in 2003 and recovered over 50,000 coins and 14,000 artifacts from the site nearly 1,700 feet deep.
In May 2007, the Company announced the historic deep-ocean treasure recovery of over 500,000 silver and gold coins, weighing 17 tons, from a Colonial era site code-named "Black Swan." In February 2009, Odyssey announced the discovery Balchin's HMS Victory. The Company also has other shipwreck projects in various stages of development around the world.
Odyssey offers various ways to share in the excitement of deep-ocean exploration by making shipwreck treasures and artifacts available to collectors, the general public and students through its webstore, exhibits, books, television, merchandise, and educational programs.
JWM Productions recently concluded filming Odyssey's 2008 "Atlas" expeditions for an 11-part primetime series for Discovery Channel, which premiered in January 2009 in the United States and which is scheduled to air worldwide later in 2009.
Following previous successful engagements in New Orleans, Tampa, and Detroit, Odyssey's "SHIPWRECK! Pirates & Treasure" exhibit is now on display at Science Center Oklahoma in Oklahoma City, OK through May 2009.
For details on the Company's activities and its commitment to the preservation of maritime heritage please visit www.shipwreck.net.