2009 Abraham Lincoln Silver Dollar Commemorative Coin images have been released by the United States Mint. The one year issued only coins commemorate the 200th anniversary of Lincoln's birth in 1809.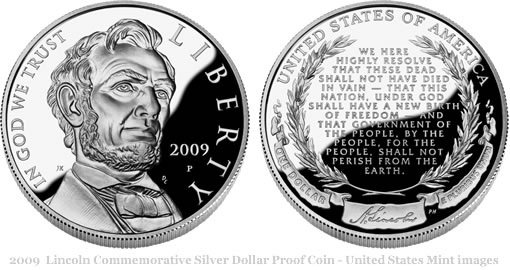 Lincoln Silver Dollar designs were revealed by the Mint on November 19 during the annual Dedication Day Ceremony at Soldiers' National Cemetery in Gettysburg. The newest images, however, provide a much better sense of how the coins actually look.
The Abraham Lincoln Commemorative Coin Act calls for up to 500,000 uncirculated and proof silver dollars for collectors this year, and four new Lincoln circulating cents to celebrate the bicentennial of Lincoln's birth.
The reverse or tails side of the coin features the last 43 words of the Gettysburg Address, encircled in a laurel wreath, a curling banner with Lincoln's signature, and the inscriptions UNITED STATES OF AMERICA, ONE DOLLAR and E PLURIBUS UNUM. It was designed and executed by United States Mint Sculptor-Engraver Phebe Hemphill.
The obverse or heads side features an image of President Lincoln with the inscriptions LIBERTY, IN GOD WE TRUST and 2009. It was created by United States Mint Artistic Infusion Program Master Designer Justin Kunz and sculpted by United States Mint Sculptor-Engraver Don Everhart.
The Mint will begin selling the silver coins on February 12, 2009. Prices have not yet been published. $10 Surcharges for each silver dollar sale will be paid to the Abraham Lincoln Bicentennial Commission to further its work.
[Editor's update: For a more detailed Lincoln article that includes history, prices, more images and additional bicentennial collector offerings, follow 2009 Lincoln Commemorative Silver Dollars. To go directly to the Mint's online store to order, follow these proof and uncirculated links.]