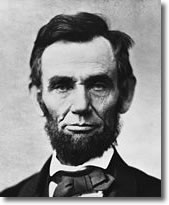 The U.S. Mint on Wednesday will reveal 2009 commemorative silver dollar coin designs honoring Abraham Lincoln, the sixteenth President of the United States.
The unveiling will take place during the Dedication Day Ceremony at Soldiers' National Cemetery in Gettysburg, and on the 145th anniversary of the day Lincoln delivered his historical Gettysburg Address.
Mint Deputy Director Andy Brunhart will reveal the designs at 10:30 a.m. (ET), following a wreath laying ceremony at the Soldiers' National Monument at 10:15 a.m.
Subsequent events will follow, including a graveside salute by the U.S. Colored Troops, and a luncheon sponsored by the Lincoln Fellowship.
The Abraham Lincoln Commemorative Coin Act calls for up to 500,000 uncirculated and proof silver dollars for collectors, and four penny designs for circulating cents to celebrate the bicentennial of Lincoln's birth.
$10 Surcharges for each silver dollar sale will be paid to the Abraham Lincoln Bicentennial Commission to further its work.