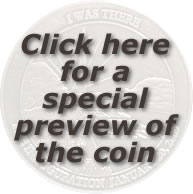 A District of Columbia entrepreneur has designed what he's calling the I WAS THERE Obama Inaugural keepsake coin.
"It's not another Presidential dollar or half-dollar plated in gold with a color picture of Obama on it. This coin is being custom die-struck from an original sculpture of Obama. I wanted to do something different. Obama promises change and I wanted to do the same," said Geoffrey Taylor, the designer of the coin.
The coin, minted in the USA, is designed specifically for people attending the Inaugural event. It will feature Obama's middle name. "I haven't seen this on any of the other coins out there," states Taylor. The back of the coin features a special story that brings together two significant historical events.
The scene is from the Lincoln Memorial overlooking the millions of people who "were there" beholding the reality of Dr. Martin Luther King, Jr.'s I Have A Dream speech delivered in August of 1963. The corresponding inscription reads "REFLECTING ON A DREAM. YES WE CAN."
In addition to the coin, the designer is also providing a place for everyone to record their own stories and share their photos and videos of the Inaugural event, at http://iwasthere.com. The website will go live Inauguration Day.
"This Inaugural event is so special for me; I wanted to have this the same day as the official launch of our new website, iwasthere.com. It's a place where people can go to share their stories not only of this Inaugural event but any place, event, or experience you 'had' anywhere in the world," said Taylor.
To commemorate the Inauguration, http://iwasthere.com is giving away one of 44 (Limited Edition) one-troy-ounce 24 KARAT gold I WAS THERE coins to the person whose story receives the highest ratings by new members of the site. The votes will be counted at 12 p.m. EST on the 44th day after Inauguration Day. This won't be the coin #1 though; that's going straight to Barack Obama himself.
"We are also giving away a FREE Antique Bronze version of the coin, but to get this one you have to receive a special I WAS THERE postcard from one of our many distributors who will be in the crowds on Inauguration Day," said Taylor.
The coins will be available exclusively at http://iwasthere.com where you can buy them after 12 p.m. EST on Inauguration Day.
[Editor's note: Geoffrey Taylor has invited readers to provide opinions and preview an antique bronze version of the I WAS THERE Obama Inaugural Keepsake Coin by following http://iwasthere.com/ObamaInauguralKeepsakeCoin/]
# # #