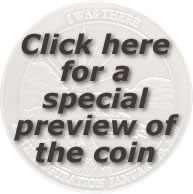 A District of Columbia entrepreneur has designed what he's calling the I WAS THERE Obama Inaugural keepsake coin.
"It's not another Presidential dollar or half-dollar plated in gold with a color picture of Obama on it. This coin is being custom die-struck from an original sculpture of Obama. I wanted to do something different. Obama promises change and I wanted to do the same," said Geoffrey Taylor, the designer of the coin.
The coin, minted in the USA, is designed specifically for people attending the Inaugural event. It will feature Obama's middle name. "I haven't seen this on any of the other coins out there," states Taylor. The back of the coin features a special story that brings together two significant historical events.