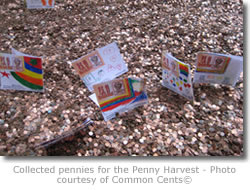 Colorado students in 31 elementary, middle and high schools collected nearly 3.8 million in pennies, or $37,826.02, for local charities during the 18th annual Penny Harvest.
The Penny Harvest is a national program that comes to fruition each fall when children scour their neighborhood in search of pennies.
Collected pennies are tallied toward year's end with youthful philanthropy in full stride as students select charities of their choice to help with cash grants and services.
"We are blown away by this year's results," said Julie Carlton, Program Coordinator for the Young Philanthropists Foundation's Penny Harvest. "It just goes to show you how powerful our pennies, and our kids, can be when they work together."
According to Common Cents, the nonprofit organization who started the Penny Harvest in 1991, $6.8 million in grants have been donated by children since 1991. During 2007-2008, Penny Harvest students collectively raised nearly $800,000 in pennies.
National totals for 2008-2009 are not yet available.