Gold gained Thursday as the U.S. dollar weakened and oil prices surged more than 10 percent with reports OPEC will likely cut production next week. New York silver, gold and platinum futures rose 2.3 percent, 2.2 percent and 0.7 percent, respectively.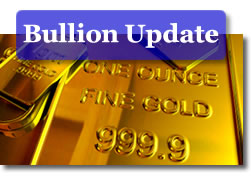 January crude-oil surged $4.46, or 10.2 percent, to $47.98 a barrel. The average price for unleaded gasoline dropped 1.9 cents to $1.664 a gallon, according to AAA.
March silver gained 23 cents to close to $10.43 an ounce.
January platinum rose $5.50 to end at $845.50 an ounce.
Gold for February climbed $17.80 to close to $826.60 an ounce.
"The US House's passage of the automaker rescue plan initially ignited risk appetite with a vengeance and sent the dollar reeling, and commodities surging on Thursday," said senior analyst Jon Nadler at Kitco Bullion Dealers.

"These markets are still clearly (and almost exclusively) trading on raw emotions, as evidenced by their jumping the gun on the auto news before the Senate was done voting," added Nadler.
Gold, considered a hedge during times of high inflation and economic uncertainty, tends to follow oil and move opposite to the U.S. dollar. A rising greenback makes dollar-denominated commodities, like bullion, more expensive for holders of other world currencies. When prices are falling and economic activities are shrinking, gold prices tend to move lower.
In bullion coin news, eight U.S. Mint gold and platinum coin options have now sold out within the last week.
Check out CoinNews market resources at Live Silver, Gold & Platinum Spots, the Silver Coin Calculator, U.S. Mint Collector Bullion Coin Prices, and the Inflation Calculator.