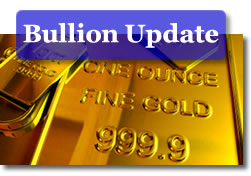 U.S. gold prices closed down on Tuesday, but then jumped in late afternoon trading after the Federal Reserve said the U.S. recovery is weakening, that it would keep rates at low levels for "an extended period," and it would resume buying long-term Treasurys.
"Information received since the Federal Open Market Committee met in June indicates that the pace of recovery in output and employment has slowed in recent months," noted the Fed's FOMC in a statement released Tuesday.
Gold was as high as $1,209.90 an ounce after the Fed statement. Silver gained in after hours trading as well, climbing as high as $18.475 an ounce.
The same Fed news was cited for paring losses in crude oil and in U.S. stocks. Major indexes ended the day down between 0.5 and 1.3 percent, but off their lows.
New York precious metals closing prices follow:
Gold for December delivery fell $4.60, or 0.4 percent to $1,198.00 an ounce. It ranged from $1,192.50 to $1,204.10.

September silver lost 8.4 cents, or 0.5 percent, to end at $18.158 an ounce. It ranged between $17.960 and $18.430.

Platinum for October delivery declined $5.90, or 0.4 percent, to $1,537.00 an ounce. It ranged from $1,526.10 to $1,552.50.

September palladium declined $9.05, or 1.9 percent, to finish at $470.60 an ounce. It ranged between $471.00 and $483.55.
In notable bullion quotes of the day:
"If the Fed keeps printing money to buy more debt, it's going to be positive for gold," Michael K. Smith, the president of T&K Futures & Options in Port St. Lucie, Florida, said and was quoted on Bloomberg. "Gold is going to keep going higher. It's an excellent investment."
"Quantitative easing keeps the yield curve steep, increases money supply and keeps short-term interest rate low — all of those things are positive for gold prices," James Steel, chief commodity analyst at HSBC, said and was noted on Reuters. "A higher monetary supply always lead to worries about inflation longer term, and it tends to be good for hard assets like gold."
In PM London bullion, the benchmark gold price was fixed to $1,192.50 an ounce, falling $10.50 from the PM price on Monday. Silver declined 39 cents to $18.090 an ounce. Platinum settled at $1,539.00 an ounce, dropping $19.00. Palladium lost $6.00 to $479.00 an ounce.
Oil and gasoline prices
Crude oil prices fell, "on signs that fuel demand in the U.S. and China, the two largest energy consumers, is faltering as the economic recovery slows," reported Grant Smith of Bloomberg.
Losses were pared in late trading following the Fed statement.
"The oil markets appear to have found some support on the Fed announcement that it will continue to keep interest rates exceptionally low for an extended period," Gene McGillian, analyst, Tradition Energy, Stamford, Connecticut, said and was quoted on Reuters. "Low interest rates attract money to commodities. The dollar paring its gains allowed crude futures to pare losses."
New York crude oil for September delivery declined $1.23, or 1.5 percent, to close at $80.25 a barrel.
The national average for regular unleaded gasoline rose seven-tenths of a cent to $2.781 a gallon, according to AAA fuel data. The price is 5.5 cents higher than a week ago, 6.8 cents more than a month back, and 13.6 cents above the price from a year ago.
U.S. Stocks
U.S. stocks ended lower, but pared, again, by the Fed announcement.
"They're signaling to the market that their foot is firmly on the accelerator and that they're ready to put a backstop to prevent a double-dip," Burt White, who helps oversee $284 billion as chief investment officer at LPL Financial Corp. in Boston, said and was quoted on Bloomberg. "It's a symbolic reassurance to the market."
The Dow Jones industrial average lost 54.50 points, or 0.51 percent, at 10,644.25. The S&P 500 Index fell 6.73 points, or 0.60 percent, at 1,121.06. The Nasdaq Composite Index declined 28.52 points, or 1.24 percent, at 2,277.17.