Officials today joined with a hometown crowd at Kinderhook Cemetery in Kinderhook, N.Y., to honor President Martin Van Buren on the anniversary of his birth and ceremoniously release the eighth Presidential Dollar coin. Van Buren was the first U.S. president born in America and spent his youth in Kinderhook.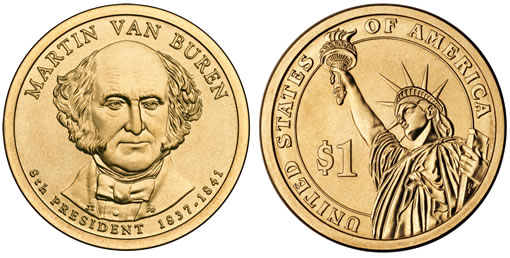 "Many Americans are not aware of Van Buren's legacy," U.S. Mint Deputy Director Brunhart said. "He was a self-made man, who rose from humble beginnings to become our Nation's eighth President. Not only was he an artful politician, but he also helped shape our political system as we know it today."
As a part of the ceremony, a free $1 coin was given to everyone 18 and under. Others in attendance could exchange their money for $25 rolls. The public can also purchase rolls and bags of the coins through the Mint's online store at Presidential $1 Coin Products.
The Martin Van Buren Presidential Dollar, the last for 2008, was actually released into circulation on Wednesday, November 13. The ceremonial event was held until today to coincide with the 226th anniversary of his birth.
"Martin Van Buren rose from humble beginnings to become an influential politician through hard work, an attribute that exemplifies the American spirit," said United States Mint Director Ed Moy at the time of the circulation release. "We, too, can show our American spirit by using Presidential $1 Coins. They are resilient, practical and 100 percent recyclable."
The Mint continues to press the public to use $1 coins for their cost savings benefits. Another value to the Presidential $1 Coin Program is the education component each dollar release brings. In a statement, the Mint reminds educators of their lesson plans at http://www.usmint.gov/kids/. The Mint also provided the following background information for Van Buren:
"Martin Van Buren epitomizes the American ideal of success through hard work. His father, of Dutch descent, was a tavern keeper and farmer of modest means. Unable to provide a college education for his son, the elder Van Buren instead secured a position for his son in a law office where he worked as a clerk by day and studied law at night.
Following his admission to the New York Bar, Van Buren began his political career, rising through the ranks to become a powerful politician. He served as governor of New York, ambassador to Great Britain, secretary of state, U.S. senator and vice president before being elected President in 1837.
Van Buren was the first President born an American citizen and the first not of British descent. He was regarded for his impeccable attire, quick wit and unfailing tact. His political acumen and skill as a behind-the-scenes organizer earned him numerous nicknames, including "The Little Magician," "The Red Fox of Kinderhook" and "The Mistletoe Politician." He is generally considered a key figure in the formation of the modern American political system. Defeated in his bid for re-election, Van Buren retired to his home, Lindenwald, after serving only one term in office."
Already launched this year were $1 coins celebrating James Monroe, John Quincy Adams and Andrew Jackson.
2009 will kick-off with the William Henry Harrison $1 coin and the new Sacagawea $1 coin design.