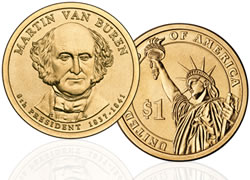 Minting of Presidential $1 Coins have hit a new low, according to the latest production figures by the United States Mint.
The series, which started in 2007 with over 340,000 George Washington Presidential coins, has experienced a production decline with each succeeding $1 release, with the exception of the Jackson dollar.
Van Buren production is down by more than one-third compared to Washington dollar figures, as the following table reveals.
| | | | |
| --- | --- | --- | --- |
| $1 Coin | Denver | Philadelphia | Total |
| George Washington | 163,680,000 | 176,680,000 | 340,360,000 |
| Martin Van Buren | 50,960,000 | 51,520,000 | 102,480,000 |
A new multi-year coin series will almost always be the most popular during its launch year. Volume and interest should expect to decline as the series continues. However, these are not coins made for collectors, but intended for mass usage. Further, a 16.2 percent reduction compared to the previous Jackson $1 implies the Mint's coin campaign to spur consumer use is hitting the expected roadblocks.
Another explanation for the decline could stem from too many previous dollar coins minted, with those pulled from vaults and used in daily transactions. In this less likely scenario, public acceptance for the coins may be increasing.
More time will tell where the series is truly heading. Although history of past $1 coin usage suggests a sheer vertical hill to climb while the dollar bill is around. More than 1.4 billion Presidential $1 coins have already minted since 2007. That is enough for every man, woman and child in America to own 4.6 of the dollars. Yet, few people ever receive one in change.
For the latest figures, visit US Mint Circulating $1 Coin Production Figures by President.