Attention! Coin collectors… Get ready… Get set. NumisMaster has raised the starting pistol and pulled the trigger. The "People's Choice" Coin of the Year nominations are online. Go vote now!
The annual Coin of the Year contest by Krause Publications celebrates a quarter century in honoring Mints from around the world for their incredible coin designs. And now for the second consecutive year, collectors can vote for their favorite.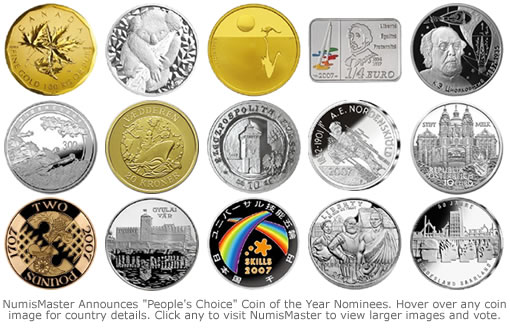 There are no losers in this year's contest, sponsored by NumisMaster and World Coin News. Each design has unique qualities guaranteeing another year of zealous voting.
"In its first year, the People's Choice Coin of the Year became an incredibly competitive award. Collectors take obvious pride in the issues of their countries and they expressed themselves strongly in their online voting," said World Coin News executive editor Dave Harper. "We expect voter participation to rise sharply this year."
Winning over the collective hearts of more than 100,000 worldwide voters, the Hungarian Mint earned the last People's Choice Award for its copper-nickel 50-forint coin that commemorated the 50th anniversary of the 1956 Hungarian revolution.
An international panel of judges gave top honors to the Royal Canadian Mint in the most recent contest. It received the coveted Coin of the Year Award for its four-piece set of $50 palladium coins showing the Big Bear and Little Bear constellations in changing seasonal positions. Other award winners included Mints from France, Austria, the United States, Latvia, and Finland.
The Coin of the Year awards ceremony will be held at the World Money Fair in Berlin, Germany on Saturday, February 7, 2009.
To support your favorite design, visit NumisMaster's 2009 Coin of the Year voting page.