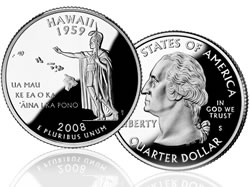 Americans will watch the final state quarter enter circulation with the launch of the Hawaii quarter on November 3, the United States Mint announced Tuesday.
The release marks the conclusion of the 50 State Quarters® Program, which is described by the Mint as "one of the most successful coin programs in U.S. history" with approximately 147 million Americans who collect the commemorative quarter-dollars.
The spectacular popularity of the yearly issued quarters began with the unveiling of the first Delaware commemorative in 1999. Since then, over 33.7 billion state quarters have been minted through to the first 48 quarters.
When the Alaska and Hawaii quarter production figures are released and added to the tally, nearly one billion more coins will have been minted. Or, more clearly, enough for every man, woman and child in the United States to own 2 quarters from each state.
The Hawaii quarter design features King Kamehameha I stretching his hand toward the eight major Hawaiian Islands. Underneath the islands is the Hawaiian state motto "UA MAU KE EA O KA 'AINA I KA PONO," meaning "The life of the land is perpetuated in righteousness."
King Kamehameha I is a revered figure in Hawaiian history. While maintaining the native practices and traditional ways of island life, he brought significant change and unified the governance of the Hawaiian Islands into one kingdom in the early 1800s. His "Law of the Splintered Paddle" guaranteed the protection of citizens from harm during war and became a landmark in humanitarian law.
The Hawaii design also bears the date "1959," denoting the year Hawaii was admitted into the Union.
On November 3, Hawaiian state quarters will be distributed by the Federal Reserve through financial institutions throughout the country. On the same day at 12:00 noon ET, the United States Mint website will begin accepting quarter orders that include a two-roll set priced at $32.95, and 100- and 1,000-coin bags priced at $32.95 and $309.95, respectively.
The Mint released collector Hawaii First Day Coin Covers on Monday for $14.95. These include two Hawaii quarters housed in a display card that were struck on the first day the coins were produced, October 9, 2008. One quarter is from the Mint's Denver facility and bears the "D" mintmark while the other is minted from Philadelphia with a "P" mintmark.
The Hawaii state quarter will be introduced in a ceremony at Bishop Square in downtown Honolulu at noon (Hawaii Standard Time) on November 10.
In 2009, the Mint will launch a new series of quarters to honor the District of Columbia and the U.S. Territories, the Commonwealth of Puerto Rico, Guam, American Samoa, the U.S. Virgin Islands and the Commonwealth of the Northern Mariana Islands.