New York gold finally showed some luster Friday by rising 2.2 percent. Silver and platinum fell 2.2 and 1.3 percent, respectively, although they gained back a sizable portion of earlier day losses. Oil tumbled once again, and has fallen 11 percent on the week.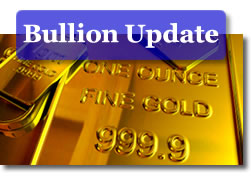 December crude oil fell $3.69, or 5.4 percent, to close at $64.15 per barrel, marking its lowest level in 17 months. In OPEC's Friday meeting, a decision was made to cut its quota of 28.8 million barrels per day by 1.5 million barrels beginning on November 1.
Despite that, concerns over a slowing global economy with resulting less demand for oil set the tone for Friday's decline.
December silver fell 21 cent to close at $9.30 an ounce. It went as low as $8.65.
January platinum dropped $10.30 to end at $802.30 an ounce. It reached an earlier low of $768.10.
Gold for December gained $15.60 to settle at $730.30 an ounce. It was a substantial gain compared to its intraday low of $681. The yellow metal had fallen in ten out of eleven previous sessions.
Two quotes for the day:
"Gold's sell-offs have been sharp and brutal and it is clearly very oversold," said Mark O'Byrne, executive director at Gold and Silver investment.
"Gold prices bounced back from oversold levels near $680 and managed a return to near $730 by the end of the Friday session, thus reducing this week's loss to 'only' about $50," said senior analyst Jon Nadler at Kitco Bullion Dealers.

"Deutsche Bank today opined that fair value in the yellow metal lies between $600 and $620. Suddenly, that number does not appear very distant at all," added Nadler.
Gold typically follows oil's direction and moves opposite to the U.S. dollar, as a weakened dollar encourages investors to buy gold, also normally considered a hedge or safe-haven during times of high inflation and economic uncertainty.
Check out CoinNews market resources at Live Silver, Gold & Platinum Spots, the Silver Coin Calculator and the Inflation Calculator.