New York gold futures dropped Thursday along with crude-oil and a near 350-point plunge in the stock market. Platinum climbed 0.7 percent, the dollar showed strength, and silver fell ever so slightly.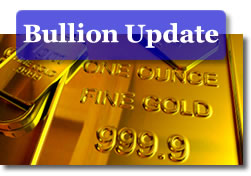 Despite Thursday's reported decline in crude and gasoline supplies for last week, October oil dropped $1.46 to close to $107.89 per barrel.
December silver dropped just a penny to end at $12.94 an ounce.
October platinum climbed $10 to $1,402.20 an ounce.
December gold fell $5 to close to $803.20 an ounce. It surged earlier in the day to a high of $819.50.
"Most of bullion's morning gains evaporated however, after the Dow, crude oil, and the euro sank in unison," said senior analyst Jon Nadler at Kitco Bullion Dealers.

"If anything, the margin calls resulting from this massive stock market drop could engender further gold position liquidations from some of the players likely to receive such notices. The short-term direction in gold remains pointed to lower levels, and selling could intensify if $790 is breached this week," continued Nadler.
The Dow slid 344 points Thursday. MarketWatch listed rising jobless claims data, mixed retail sales and weaker oil prices as fueling concerns about slowing growth.
Gold typically follows oil's direction and moves opposite to the U.S. dollar, as a weakened dollar encourages investors to buy gold, also considered a hedge or safe-haven during times of high inflation and economic uncertainty.
Check out CoinNews market resources at Live Silver, Gold & Platinum Spots, the Silver Coin Calculator and the Inflation Calculator.