Precious metals melted Wednesday under a barrage of broad selling across stocks and commodities. New York gold futures plunged 4.3 percent to mark a one year low while silver and platinum fell 6.2 percent and 3.9 percent, respectively.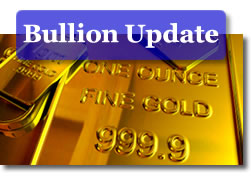 The U.S. dollar trumped other world currencies supporting declining commodities.
December crude oil fell $5.43, or 7.5 percent, to close at $66.75 per barrel — its lowest level in more than 16 months, and second straight session loss. U.S. crude and gasoline supplies were reported up again, causing further demand worries and pushing oil's fall.
December silver on Wednesday lost more than Tuesday's gain, falling 62 cents to close at $9.46 an ounce.
January platinum fell $34.50 to end at $857.20 an ounce.
Gold for December lost $32.80 to settle at $735.20 an ounce. It has fallen in nine out of ten sessions, with Monday marking its positive day.
"September 17, 2007. Ten days after the beginning of the Fed rate cuts that would eventually bring gold to $1033.90 on March 17 of 2008. That's how long ago it was that gold traded at $720 per ounce. We have now come full circle," said senior analyst Jon Nadler at Kitco Bullion Dealers.

"The remaining question now emerging is: has gold seen its lows, or are we at the start of a phase in the mid-to-high $600's? There is plenty of uncertainty on that front, for the moment," added Nadler.
Gold typically follows oil's direction and moves opposite to the U.S. dollar, as a weakened dollar encourages investors to buy gold, also considered a hedge or safe-haven during times of high inflation and economic uncertainty.
Check out CoinNews market resources at Live Silver, Gold & Platinum Spots, the Silver Coin Calculator and the Inflation Calculator.