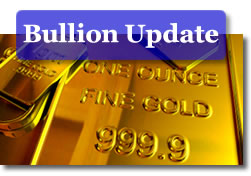 New York precious metals retreated Tuesday as stocks rallied and the U.S. dollar surged amid hopes the passage of a financial rescue plan is still possible from Capital Hill. Nymex silver, gold and platinum futures lost, 5.8 percent, 1.5 percent, and 5.6 percent, respectively.
November crude-oil recovered from Monday's more than $10 loss to settle to $100.64 per barrel, gaining $4.27, or 4.4 percent. Its lowest point for the day was $97.80.
December silver staggered down 75 cents to close to $12.28 an ounce.
October platinum plunged $59.90 to end at $1,015.10 an ounce.
December gold lost $13.60 to settle at $880.80 an ounce.
"Today's theme was: Rally like there is no tomorrow. Dow Jones index took the advice and made back nearly half of yesterday's historic losses. Oil took the signal as an excuse to regain a third of yesterday's plunge, rising to $100.50. The standout track sprinter of the day however, was the US dollar. It made astounding progress to the upside," said senior analyst Jon Nadler at Kitco Bullion Dealers.

"Thus, we come to be writing about gold not only giving up yesterdays gains, but cratering in an implosion… as waves of selling hit the market just 24-hours after it had its shiniest moment of the year," continued Nadler.
Gold generally follows oil's direction and moves opposite to the U.S. dollar, as a weakened dollar encourages investors to buy gold, also considered a hedge or safe-haven during times of high inflation and economic uncertainty.
Check out CoinNews market resources at Live Silver, Gold & Platinum Spots, the Silver Coin Calculator and the Inflation Calculator.