New York precious metals declined Tuesday with platinum plunging 9.2 percent, gold dropping 0.8 percent, silver declining 5.6 percent, and October crude-oil free-falling by $4.56 to $91.15 per barrel.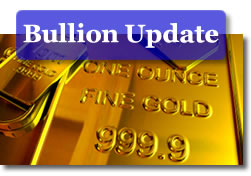 December silver ended at $10.52 an ounce.
October platinum was hit hard with its close of $1,068.50 an ounce. Weakening car sales in Europe, China and the US was cited as a catalyst.
December gold fell $6.50 to close to $780.50 an ounce.
"More surprises came into an already clouded market picture today and only added to the confusion, frustration and fear that was omnipresent. First, let's cut to the chase. The Fed did NOT cut rates," said senior analyst Jon Nadler at Kitco Bullion Dealers.

"[Are you] A gold bug? Well, there are good news and not so good news for you too. First, the good news. Gold did not melt down after the Fed decision. It did not fall beyond $775. Now, the less than good news. Unless it moves higher, and fast, the metal will lose part or all of its safe haven status – much like oil already has," continued Nadler.
The U.S. dollar is a major driving force when it comes to gold and other commodities. It gained strength ahead of Tuesday's decision by the US. Federal Reserve to keep interest rates at 2 percent — despite financial sector turmoil and slightly easing inflation, as reported by the Labor Department today.
Gold generally follows oil's direction and moves opposite to the U.S. dollar, as a weakened dollar encourages investors to buy gold, also considered a hedge or safe-haven during times of high inflation and economic uncertainty.
Check out CoinNews market resources at Live Silver, Gold & Platinum Spots, the Silver Coin Calculator and the Inflation Calculator.