A $5,000 finder's fee reward is being offered by Kagin's, Inc. of Tiburon, California for confirmation of the second known gold coin counter-stamped with the genuine hallmark of Baltimore silversmith, Standish Barry.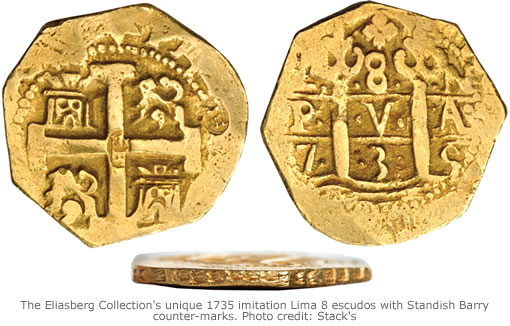 The only coin now known with the hallmark is the unique 1735 imitation Lima 8 escudos that was found in the collection of legendary Baltimore banker, Louis E. Eliasberg Sr.
Announcement of the finder's reward was made by Donald H. Kagin, Ph.D., President of Kagin's, when he displayed the counter-stamped doubloon at the American Numismatic Association World's Fair of Money convention.
"This is the first time it has been back in Baltimore since Eliasberg's word coin collection was sold in a public auction in 2005."
Described at the time of the action as "a highlight of the Eliasberg collection," it has two, identical "SB" counter-stamps on the reverse, the same oval-shaped hallmark design as found on various early American silverware produced in Barry's Baltimore workshop.
"Currently, the doubloon is the only coin we know that was countermarked by Barry. There are a small number of 1790-dated Standish Barry three-pence pieces known, but those were struck from regular dies by Barry, and not countermarked," explained David McCarthy, Kagin's Senior Numismatist and Researcher.

"We will pay $5,000 just to be the first to see the first, new, authentic Standish Barry-countermarked gold coin, and $1,000 per additional piece for that may turn up. We also will pay $1,000 for the first, genuine silver countermarked piece, and $500 for additional one," said McCarthy.
Eliasberg obtained the unrecorded, unique reeded-cast imitation Lima doubloon from the John Clapp estate in 1942. It remained unpublished for over a half century until 2004. Since then it has been compared to the famous Brasher Doubloons produced in New York City by silversmith Ephraim Brasher. Both types of coins weigh the same: 17-Pennyweights (or 26.42 grams), and were valued at $15.
For additional information, contact Kagin's, Inc., 98 Main St., Suite 201, Tiburon, California 94920. Phone: (415) 435-2601. Online: www.Kagins.com
# # #
About Kagin's, Inc
Numismatist Donald H. Kagin has unique credentials as a numismatic authority. He earned the first Bachelor of Arts degree in Numismatics granted by Northwestern University, simultaneously earning another B.A. in history. Graduate and post-graduate studies at Northwestern, Drake University, John Hopkins University, the American Numismatic Society Museum, the Smithsonian Institution, and the Union Graduate School earned Don the first Doctorate in Numismatics ever granted in the United States.
Dr. Kagin's fields of expertise are private gold coins and United States currency. He authored the most comprehensive book on the former, Private Gold Coins and Patterns of the United States, which won the Numismatic Literary Guild's "Best Book of the Year" award. He has also authored the most comprehensive book on rare coin investing, Donald Kagin's Personal Guide to Rare Coin Investments, which was awarded the "Best Investment Book" by the Numismatic Literary Guild.