A $5,000 finder's fee reward is being offered by Kagin's, Inc. of Tiburon, California for confirmation of the second known gold coin counter-stamped with the genuine hallmark of Baltimore silversmith, Standish Barry.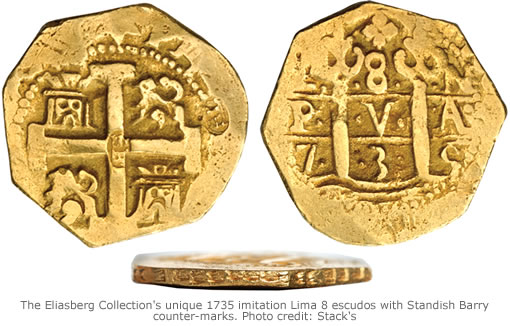 The only coin now known with the hallmark is the unique 1735 imitation Lima 8 escudos that was found in the collection of legendary Baltimore banker, Louis E. Eliasberg Sr.
Announcement of the finder's reward was made by Donald H. Kagin, Ph.D., President of Kagin's, when he displayed the counter-stamped doubloon at the American Numismatic Association World's Fair of Money convention.
(Tiburon, California) – Well-known numismatic firm, Kagin's, Inc. (www.Kagins.com) of Tiburon, California, founded in 1933 by Arthur M. "Art" Kagin, will celebrate the company's...