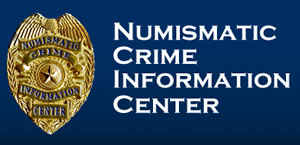 The Numismatic Crime Information Center (NCIC) is offering a $5,000 reward for information leading to the arrest and conviction of the person or persons responsible for the July 20 shooting and killing of two men at a rare-coin shop in Cheyenne, Wyoming.
Dwight Brockman, the 67-year-old shop owner, and George Manley, 76, died inside The Coin Shop at 510 W. Lincolnway.
"We have been in communication with the lead Detective in the case and have offered the many resources provided by NCIC to assist law enforcement," said Doug Davis Founder/President of NCIC. "We hope by offering the reward it will open the door to additional leads in the case."
Police say the suspect in the killings is a man around 5 feet, 7 inches tall, and was wearing a dark shirt.
Anyone with information should contact Det. Pederson at 307-637-6510 or Doug Davis at 817-723-7231 or Doug@numismaticcrimes.org.
NCIC is a non-profit corporation whose mission is to serve as a national and international resource for collectors, dealers and law enforcement in the education, prevention and investigation of crimes involving coins, paper money, tokens, medals and related numismatic items.