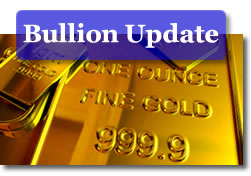 New York gold and platinum dropped Tuesday as the US dollar gained and crude oil fell by more than $5 a barrel to record its largest loss in nearly four months.
Silver pulled slightly up, rising 3 cents to settle at $17.95 an ounce.
Platinum dropped with gold, moving to $1950.40 an ounce and losing $30.90 for the day.
Gold declined $5.50 to $923.30 an ounce, reaching as low as $914 before recovering some of its ground.
"Crude is very influential in gold right now, and if crude continues its decline, this will weigh on the gold market," said HSBC analyst James Steel.

"A second wave of gold selling was triggered earlier when increases in safe-haven currencies like the yen and Swiss franc, and weaker housing data, didn't lend support to gold prices," Steel said.
Gold typically follows oil and moves in the opposite direction to the dollar, as it is bought to hedge against weakness in U.S. currency.
Bullion spots are available on the CoinNews page, Silver, Gold & Platinum Spots.