Precious metals moved lower Wednesday along with oil as the U.S. dollar climbed against other world currencies. New York silver, gold and platinum futures lost 0.3 percent, 1.6 percent and 0.3 percent, respectively.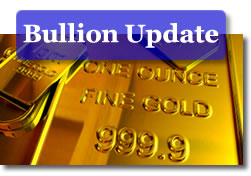 January crude-oil ended down 17 cents, or 0.4 percent, to $46.79 a barrel. Oil continues to fall from its lowest level in more than three years. The average price for unleaded gasoline dropped another penny to $1.803 a gallon, according to AAA.
March silver lost 3 cents to close to $9.59 an ounce.
January platinum fell $2.20 to end at $805.10 an ounce.
Gold for February lost $12.80 to close to $770.50 an ounce.
"After having a run to the $830 level a few weeks ago, gold has been under pressure on account of the dollar," Edward Meir, an analyst at MF Global Ltd. was quoted on Bloomberg today. "More importantly, with deflation — as opposed to inflation — now being the key macro development to watch, gold's attraction has been waning."
Deflation is the term economists use to describe a general falling of prices, as opposed to inflation which is commonly heard for rising prices.
Gold, considered a hedge during times of high inflation and economic uncertainty, tends to follow oil and move opposite to the U.S. dollar. A rising greenback makes dollar-denominated commodities, like bullion, more expensive for holders of other world currencies. When prices are falling and economic activities are shrinking, gold prices tend to move lower.
In bullion coin news, the remaining uncirculated American Eagle Platinum coins sold out today, as did the proof American Buffalo gold 1/4 ounce size.
Check out CoinNews market resources at Live Silver, Gold & Platinum Spots, the Silver Coin Calculator, U.S. Mint Collector Bullion Coin Prices, and the Inflation Calculator.