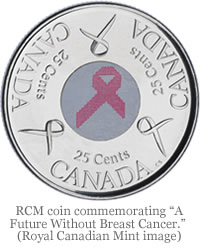 The Royal Canadian Mint received a welcome accolade from its peers when the Mint Directors Conference, holding its 25th annual meeting in Busan, Korea, presented it with the Most Technologically Advanced Circulation Coin Award for its 25-cent breast cancer coloured circulation coin.
This is the second honour earned by this inspirational and innovative circulation coin, which was previously recognized in May 2007 as the "Best New Coin" by the International Association of Currency Affairs.
"The Royal Canadian Mint makes a great effort to be the best Mint in the world and it is immensely rewarding when our efforts are validated by our peers," said Ian E. Bennett, RCM President and CEO.

"I welcome this award as the Mint marks its centennial year, and as my fellow employees and I proudly celebrate a century of innovation and achievement."
The 25-cent breast cancer circulation coin features the iconic pink ribbon, the symbol of hope and awareness in the effort to create a future without breast cancer. Thirty million breast cancer coins entered into circulation beginning on April 1, 2006.
These were the second coloured circulation coins to be produced by the Royal Canadian Mint's Winnipeg facility, following the popular 25-cent poppy coin in the fall of 2004. Considered one of the most innovative mints in the world, the Mint has pioneered and perfected the technology process to apply colour to circulation coins.
About the Mint Directors Conference
The Mint Directors Conference (MDC) was organized for the purpose of exchanging information on all monetary matters and related legal, economic, technical, administrative and numismatic questions of interest to the minting industry. The MDC provides a forum for co-operating on the study of current issues and mutually agreeable solutions. The MDC also promotes study and research into all coin-related matters, including the implications of new means of payment.
About the Royal Canadian Mint
The Royal Canadian Mint, which is celebrating its 100th anniversary in 2008, is the Crown Corporation responsible for the minting and distribution of Canada's circulation coins. An ISO 9001-2000 certified company, the Mint is recognized as one of the largest and most versatile mints in the world, offering a wide range of specialized, high quality coinage products and related services on an international scale. For more information on the Mint's history, its products and services, please visit www.mint.ca.