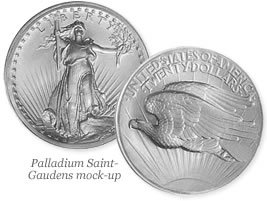 On May 15, the House of Representatives passed H.R. 5614, an act "To authorize the production in palladium of Saint-Gaudens Double Eagle coins as ultra-high relief numismatic coins and bullion investment coins in order to provide affordable opportunities for investments in precious metals, and for other purposes."
Palladium is a silver-white precious metal that is directly above platinum and to the left of silver in the Periodic Table of Elements. Generally speaking, the price of palladium is half that of gold.
The template for the coins is that of the 1907 ultra-high relief Augustus Saint-Gaudens $20 Double Eagle, considered by many to be one of the most beautiful gold coins made in the history of U.S. coinage. The Treasury authorized issuance of a one-ounce gold version of this coin in 2009.
The passage of the bill occurred without public contention and with full bipartisan support — voting by roll call for H.R. 5614 were 225 Democrats and 188 Republicans. An easy majority with only 18 House members not voting. In short, a unanimous decision.
Before the bill becomes law, it must go through the Senate and then get signed by the President. In late April, an identical Senate bill, S. 2924 was introduced by Sen. Max Baucus [D-MT] and Sen. Jon Tester [D-MT]. S. 2924 is in the normal beginning stage for new bills and was referred to the Senate Banking, Housing, and Urban Affairs.
Although predicting the passage of coin legislation is just that — a prediction — the legislation appears to be more thought than most and enjoys strong bipartisan support. It seems likely to become law at some point.
Many collectors will find the prospect for these new coins exciting, but residents and legislators of Montana will no doubt feel a touch more pride in their production. And for good reason.
Both the House and Senate bills require the use of "palladium mined from natural deposits in the United States…" Montana has the nation's only palladium mine, Stillwater Mining Company.
What could be better for collectors? Given the recent prices of gold and platinum coins, more coins — not just the potential Saint-Gaudens' — made from palladium.
Previous CoinNews reader comments for a palladium Saint-Gaudens Double Eagle coin
Koichi Ito says:

I like that Recreating Ultra-High Relief Saint-Gaudens Coins out of Palladium and 24 Carat Gold. I hope it come in both versions. I would like also see that come in Platinum too!
Frank McAllister says:

The possibility of recreating an Ultra-High Relief Saint-Gaudens palladium bullion coin is terribly exciting for the men and women of the Stillwater Mining Company who proudly produce palladium from the Beartooth Mountains immediately North of Yellowstone National Park.

The Stillwater mineral formation is the only such palladium and platinum producing formation in the U.S. and one of only a handful in the world. Stillwater has met the test of time – producing its palladium and platinum in an environmentally sensitive, miner safe, and community minded manner – now for the past two decades.

With the minting of this new coin, palladium would join its sister precious metals – platinum, gold and silver in the US Mints outstanding collection of coinage. Palladium is a bright and white metal, with the lighter density of silver and is now receiving great attention as a jewelry metal due to its density and affordability when compared to gold and platinum.

Although more affordable, palladium is equally rare to platinum with roughly 7 million ounces of each (i.e. platinum and palladium) produced annually. By contrast roughly 80 million ounces of gold and 400 million ounces of silver are produced annually. Thus, it will be a magnificent collector/investor coin.

The Stillwater Mining Company collaborated in the minting of a wildly popular palladium bullion coin in 2004 to commemorate the Lewis and Clark expedition which had it origin just over 200 years ago in the very year that palladium was isolated as an element separate from platinum. Lewis and Clark were shown on the front of our coin and the reverse side of our coin was a buffalo similar to that on the Indian Head Nickel.

Although now out of production, it remains an extraordinary coin. The elegant Ultra-High Relief Saint-Gaudens design would be a fitting introduction of this noble metal, palladium, to the US Mint's coinage collection. Hooray to the sponsors.
L. Leonard Walters says:

This is very exciting news for numismatists everywhere as this extraordinary coin would make a wonderful addition to any collection. The design of the Saint-Gaudens Double Eagle coin is remarkable.

I have done my fair share of research on precious metals, and I would strongly suggest that the coin be minted in palladium or platinum to further enhance its unique properties. However, the current market price of platinum would severely limit the distribution of these coins and prevent many collectors from being able to purchase them. Hopefully, a pre-ordering option will be available to coin dealers ;-).
Degele, Judy says:

It would be wonderful if an Ultra-High Relief Saint-Gauden Palladium coin was produced. It would be great if the palladium was purchased from the Stillwater Mining Company. I have always felt we should support business here in the United States.
Dayle Flynn says:

It would be best if the palladium coin was minted using Stillwater Mining Palladium, since Stillwater is the only palladium mining company/producer in North America. The coin would have added value with the palladium coming from a US source.
Jerry Hanley says:


Palladium is a very attractive precious metal and would make an excellent coin. Most people don't realize that the catalic converter on their car or truck contains palladium – just one of its many uses. Having mined for near 40 years, much of that time at the Stillwater underground mine in South Central Montana, I can think of nothing more fitting than palladium coins.

You see, Stillwater mines Palladium and Platinum and is one of the few such mines in the world. Stillwater palladium should be used in the minting of the coins to pay tribute to the hundreds of men and women who work hard and safe every day to mine this metal right here in the United States.