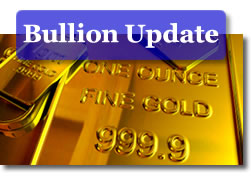 Gold turned slightly south today as the dollar gained against the euro. New York spot gold went as low as $862.70 an ounce, but eventually climbed back to $870 an ounce to lose just $6 for the day.
Separate comments from Kansas City Fed President Thomas Hoenig and Treasury Secretary Henry Paulson would seem to signal the potential for gold's further regress.
According to the Wall Street Journal, Paulson said the worst of the credit crunch may have passed and that the financial markets are emerging. Hoenig said late Tuesday that the Federal Reserve must be ready to raise interest rates in a timely manner given the "troublesome" inflation outlook.
Such statements tend to firm the dollar, and a stronger dollar generally lends itself to lower gold prices.
If there's a saving grace for the yellow metal, it could be the European Central Bank's meeting Thursday to discuss rates. A move on their part could reverse the euro/dollar move and that of gold.
Currently, however, there is some analyst talk of gold retesting the $845-$850 level.