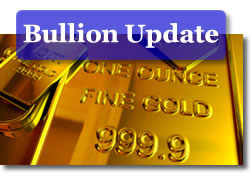 U.S gold futures retreated 0.7 percent and for a third straight session Tuesday, pressured by a stronger dollar and a general sell-off in commodities. Silver led in precious metals declines, falling 1.9 percent. Platinum and palladium bucked the trend. Each rose a modest 0.1 percent.
June gold prices declined $10.60 to settle at $1,480.00 an ounce on the Comex in New York. Gold traded between $1,471.10 and $1,497.50.
"Precious metals may have difficulty advancing due to ongoing liquidation of commodity trades," said Tom Pawlicki, an analyst at MF Global Holding Ltd. in Chicago, was quoted on Bloomberg. "Slowing economic growth has created pressure in stocks and energies and pressured metals from the deflation angle."
On the gold ETF topic, Jon Nadler, Senior Analyst at Kitco Metals Inc., noted in his daily commentary:
Thus, we now learn that the Soros Fund Management LLC "let go" of no less than $648 million of its gold ETF (some 13.5 tonnes) holdings (that would be 99% of Mr. Soros' gold positions) by the time March 31 rolled around, and that the Touradji Capital Management fund unloaded the entirety of its 173,000 shares of its gold ETF shares within that same timeframe. The other familiar name that also cut its gold ETF holdings (by a not insignificant 48%) during Q1 was Mr. Mindich's Eton Park Capital Management LP. There has been no change in the gold holdings of Paulson & Co. for that reporting period, albeit everyone is quite curious as to what that fund may or may not have done, or be doing, in the current quarter.

Curiously, the fund-related market and news talk that had heavily extolled the purchases of gold in recent years by the aforementioned financial figureheads as a sure sign that mega-rallies were in the making, have not shifted very much in tone and are now "explaining" the sizeable gold liquidations as mere "logical profit-taking" and even expect some of these firms to reestablish positions at some future time. In no way is there any overt sense that such departures from the gold niche might possibly mean the end of one cycle, or the possible beginning of a… different one. Label to be applied later, but in any case, well before 2034…
Silver prices for July delivery ended down 64.1 cents, or 1.9 percent, to close at $33.491 an ounce. Silver prices ranged from a low of $32.96 to a high of $34.38.
Platinum prices for July delivery gained $1.00 to settle at $1,761.00 an ounce. Platinum traded between $1,751.00 and $1,780.50.
Palladium prices for June delivery added 75.0 cents to close at $714.25 an ounce. It ranged between $705.05 and $722.25.
When comparing London bullion prices on Tuesday (PM) from those on Monday (PM), gold declined $22.25 at $1,478.50 an ounce, silver lost 7.0 cents at $34.28 an ounce, and platinum and palladium remained unchanged at $1,760.00 an ounce and $713.00 an ounce, respectively.
In an update, the United States Mint on Tuesday provided the latest bullion coin sales figures as of Monday. The daily gains, shown below, reflect those from Friday to Monday.
US Mint 2011 Bullion Coin Sales
Daily
Gains
May
2011
YTD
2011
Gold Eagle Coin (1 oz.)
3,500
76,000
434,000
Gold Eagle Coin (1/2 oz.)
1,000
21,000
54,000
Gold Eagle Coin (1/4 oz.)
0
4,000
56,000
Gold Eagle Coin (1/10 oz.)
0
15,000
215,000
Gold Buffalo Coin (1 oz.)
3,000
9,500
68,000
Silver Eagle (1 oz.)
811,500
2.3175 M
17.5655 M
ATB Silver Bullion (5 oz.)
3,000
28,000
253,400