Billy G. Crawford's latest bi-monthly issue of Die Variety News magazine is now available online and for free.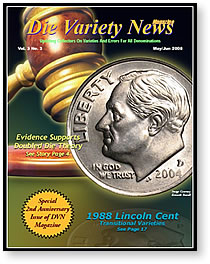 The magazine's May/June issue #13 sports, as its title suggests, a variety of interesting coin topics that are sure to please the collector. The numerous descriptive photos within the magazine are great in teaching new collectors about various coin die varieties while keeping experienced collectors well informed.
The magazine has started its third successful year in publication. This latest issue continues its tradition of top die variety news, including subjects on:
An analysis of the 2004-D Roosevelt Dime
The cover story discusses an apparent double die resulting in "distinct and raised remnants" by Roosevelt's ear.

1988 Lincoln Cent Transitional Varieties
1988 Philadelphia Lincoln cents mated with reverse designs of 1989 cents.

Wyoming State Quarter Double Die Reverse Varieties
Several interesting photograph examples are included that show the doubling found toward the center of some Wyoming quarters.

Continuation of the Ocean-In-View (OIV) Reverse Doubled Die Nickel Series
A continuation from the Die Variety News Mar/Apr 2008 issue showing additional coin photos highlighting several doublings discovered in some 2005-P nickels.

2006 Lincoln Cent Strange Reverse Specimens
Specimen examples of raised remnants in the Memorial bay area of the reverse of 2006 Lincoln cents.

Presidential Varieties & Heavy Abrading
2007-P George Washington Presidential $1 coin examples highlighting "heavily abraded remnants" in the shoulder area of Liberty. Also, a 2008-P James Monroe dollar specimen.
In addition to the main article topics, the magazine includes its popular sections, "This & That" section, "World Varieties," "Mint Error Showcase" and the "Variety Spotlight."
With the assortment of quality articles and descriptive photos, you will no doubt find Die Variety News a delight.
Because the 58-page magazine is heavy in content and photos, you may wish to download it directly to your computer. The magazine is published in the Adobe Acrobat© PDF format, making it a breeze to save directly to your desktop. Not only can you jump around the magazine's pages faster this way while viewing, you can enjoy it later at your convenience or even offline.
Past issues of Die Variety News
You may also be interested in ordering past issues. Mr. Crawford offers all issues on CD for the price of $20, including shipping and handling. According to the Die Variety News home page, back issues include:
Over 400 pages,
More than 1500 detailed photos, and
is equivalent to a reference book.
Other works by Billy G. Crawford
Billy G. Crawford is also the author of "A Detailed Analysis of Lincoln Cent Varieties" and co-author of "The Authoritative Reference on Eisenhower Dollars" with John A. Wexler and Kevin Flynn.
Mr. Crawford also contributed photography to several published works, including: "The Best of the Washington Quarter Doubled Die Varieties" by John A. Wexler and Kevin Flynn along with contributions to, "A Quick Reference to the Top Lincoln Cent Die Varieties" by Gary Wagnon, Karen Peterson, Kevin Flynn, "The Authoritative Reference on Lincoln Cents" by John A. Wexler and Kevin Flynn, "The Complete Price Guide and Cross Reference to Lincoln Cent Mint Mark Varieties" by Brian Allen and John A. Wexler and the well-known "The Cherrypickers' Guide to Rare Die Varieties" by Bill Fivaz and J.T. Stanton.
Cover photo courtesy of Billy G. Crawford and Die Variety News