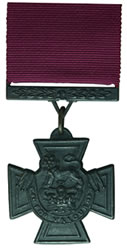 A rare collection of medals valued in the millions but considered priceless national treasures were recovered after they were stolen from New Zealand's Waiouru Army Museum on December 2, 2007.
96 medals that were awarded to 12 of New Zealand's most decorated war heroes were stolen, including:
Nine Victoria Crosses
Two George Medals
One Albert Medal
The Victoria Cross (VC) is the highest military decoration awarded for valour to members of the armed forces of several Commonwealth countries and previous British territories.
$300,000 reward encouraged return of medals, investigation reports
British VC collector Lord Ashcroft, the owner of the largest collection of Victoria Crosses, and Nelson businessman, Tom Sturgess, put up a reward of $300,000 (AUS). That reward helped immensely.
The investigation into the theft was named, Operation Valour. In a police statement regarding the recovered medals, lead detective Sergeant Chris Bensemann said:
"The reward was offered for information leading to the safe return of the medals and that has encouraged a person to come forward and facilitate the return of the medals to police …

… New Zealand Police celebrate the return of these national treasures. The recovery of the medals was the top priority. Nevertheless, our job won't be complete until we find the perpetrators of this burglary and bring them to court …

… What I can say is that the recovery of the medals has certainly narrowed the focus of the investigation, the net is closing and we are continuing to work very hard at pulling it tight."
The war heroes honored with the medals were Captain C Upham (VC and bar), Brigadier L Andrew (VC, DSO), Captain S Frickleton (VC), Sergeant J Hinton (VC), Sergeant A Hulme (VC), Major R Judson (VC, DCM, MM), Lieutenant Colonel H Laurent (VC), Sergeant J Grant (VC NZEF), Sergeant K Elliot (VC), Lance Corporal D Russell (GC), Sergeant M Hudson (GC), Captain R Riding (AM).
For another perspective of this story, you can read the embedded AFP article, Rare NZealand military medals found, police close on thieves.