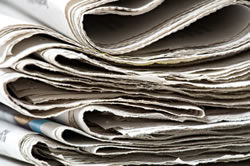 CoinNews draws a large audience of new collectors who are Internet-savvy, and who have never or rarely picked up a coin or numismatic print publication.
According to CoinNews web logs, tens of hundreds of visitors come to CoinNews each day for their first time. Based on questions and search terms, many readers are just starting down the path to the extremely rewarding hobby of coin collecting.
For some of us, the first or top source of information is the Internet. While the print media for coin news and articles is usually written more from an older and experienced collector or coin dealer perspective, it's worth the time to gravitate toward print as another source of collector information. They've been around and have solid inside resources with great articles. It just takes a little time to get used to their style.
Recommendation: Don't choose the Internet as a means to find coin magazines or newspapers
If you should consider this, be wary of one thing – don't always set your expectations by visiting the coin magazine or newspaper websites. To be frank, some – not all – are outrageously outdated.
While they know the layout of their magazine or newspapers and would absolutely die if their cover had a mistake, their very public Internet image, which is a first point of contact for many people, is embarrassingly scary. Part time blogger sites put many to shame … Their content can be king, but it's hard to get through their guarded and ugly Internet gates to even realize the potential prizes waiting.
My suggestion is to spend a Saturday morning or afternoon and actually go to your favorite bookstore. Look for coin magazines or newspapers there, instead of using the Internet as your first source. You should find some excellent ones to pick up and browse through.
It'll take some time to get acquainted with "upper school" coinage terminology found in several print publications, but you may find yourself becoming one of their dedicated readers. Going forward and looking back, you'll appreciate the quality content these print publications offer. That's a CoinNews guarantee!