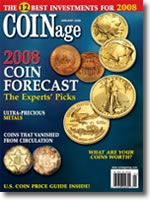 The coin forecasts and top picks that appear around the new year provide interesting insights.
In making a prediction for any single coin, there's at least a judgment in its potential to increase in value, driven by collector demand or other market factors.
One of those market conditions that influences the selection of certain coins this year is the direction gold. Gold has been yelling with a mighty roar, perking the ears of coin collectors and investors. When the yellow metal rises, the interest in gold coins increase.
If you're looking for opinions to where coins are headed this year, ideas for top collectible coins and deeper insights into how gold affects the coin market, you may just want to pick up the January issue of COINage Magazine. It includes these topics and more:
The 2008 Coin Forecast
Which areas have the experts set their sights on?
Ed Reiter
Really Precious Metals
Gold, silver and platinum prices add fuel to the coin market's fire
Ron Meyer
The Grade Divide
How PCGS's shortfalls will foster consumer confidence
Leon Worden
The Top 12 for the next 12
Some surprising collecting opportunities top this year's list
Scott A. Travers
Coin Capsule: 1889
Three coins were "out," and four new states were "in"
Jon Blackwell
Redeemed Obsolete
Old coins never die; they dwindle out of circulation
Tom DeLorey
Conversations With Mint Director Moy
The Mint's plans for this year, and what still surprises him about coin collectors
Leon Worden
How to Spot a New 5-Spot
Security features make this note impossible to counterfeit
Ron Meyer
Passages to Reconstruction
Medallic art gets some well-deserved respect
David T. Alexander
If you're not a subscriber to COINage, you better hurry to pick the issue up from your favorite book store. It goes for $4.99 per month and the February issue is already shipping.
However, if you're too late you can always order back issues of COINage. You'll pay a bit more at $5.99, plus $2.95 for shipping and handling, but it's well worth it.
(Editor's note: CoinNews receives no compensation from COINage Magazine. We just enjoy the magazine and like to recommend it.)