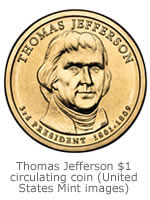 Don't forget to pick up or order your new Thomas Jefferson $1 coins tomorrow! The United States Mint had their official roll-out ceremony today where they handed out circulating versions of the Jefferson Presidential $1 coin. Special collectible proof versions have been available for some time. The new $1 coins offered by the mint come in rolls and bags.
Since these Jefferson coins come straight from the U.S. Mint, although they're circulated versions just like those being released into the general public tomorrow, they've actually never been "circulated". As such, they're more attractive to coin collectors and coin enthusiasts. You're going to have to pay more for them, however. A 25-Dollar roll will cost you $35.95. And don't forget about the shipping and handling charges!
Of course you don't have to order the new circulating Jefferson $1 coins from the mint. Most banks and financial institutions already have them and you'll be able to get the new dollar coins tomorrow. Since the coins are brand new, you'll likely be able to pick some up and they'll be in the same condition as those being released by the mint through their roll and mint bag program.
According to the U.S. Mint production numbers, they've already produced nearly 204 million $1 Jefferson coins. If that's all they make, it'll be down from the Adams and Washington $1 presidential coin totals. That's nothing unusual. First release coins in a series are typically more popular and the mint wouldn't be smart, when they have the choice, to create coins that'll just sit in vaults. There are already millions of Washington and Adams dollars doing just that!
Interestingly, at the official news conference today the U.S. Mint released their commissioned "Presidential $1 Coin Survey" findings. Apparently the majority of Americans are seriously shy when it comes to presidential history! One example showed that 65% of Americans surveyed couldn't remember that Thomas Jefferson's portrait is on the nickel. Hmm…
For more information or to order the Jefferson rolls or bags, you can visit the United States Mint website. You may also be interested in reading the previous CoinNews.net article about the Jefferson $1 coin release.