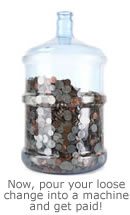 You'll find tons of stories on the Internet describing cool coin finds in every day pocket change. For many, it can be the starting point of a new hobby and for existing collectors, it can be one of the most memorable experiences ever.
Interesting, just today on a coin forum and earlier this week on an early morning show there was talk about the expanding use of automated coin machines in banks and convenience stores. What you do is pour your change into the machine and in seconds it'll sort and count everything for you. Perhaps one of the most popular is by Coinstar.
A selling point for the machines, outside of the fun of dumping the coins, is their convenience in saving you from the hassles and lost time of counting, rolling and cashing all your loose change. A downside is that there's a fee for the service of nearly 10% unless you flip your change into certain Gift Cards or eCertificates.
Whatever you do, before dumping or rolling your change, take a good look at what you have! You never know if there's a cool coin just waiting for a place in your collection.